Description
3T3-L1 Differentiation Kit
3T3-L1 cells are derived from mouse 3T3 cells and provide a widely-used fundamental model in the study of adipose physiology and metabolic diseases. They exhibit a fibroblast-like morphology before differentiation but become rounded and accumulate lipid droplets several days after the initiation of differentiation. The accumulated lipid droplets can be visualized by light microscopy. The in vitro differentiated 3T3-L1 adipocytes result in characteristics similar to tissue-derived adipocytes and have been commonly used to study adipogenesis, lipolysis, and metabolic dysfunctions. Assay Genie's 3T3-L1 Differentiation Kit provides enough supplements to make 100 ml of differentiation medium and 600 ml of maintenance medium which is sufficient material for 12 100 mm culture dishes. The Differentiation Cocktail provides a final concentration of 1.5 µg/ml insulin, 1 µM dexamethasone, 500 µM IBMX, and 1 µM rosiglitazone in the differentiation media.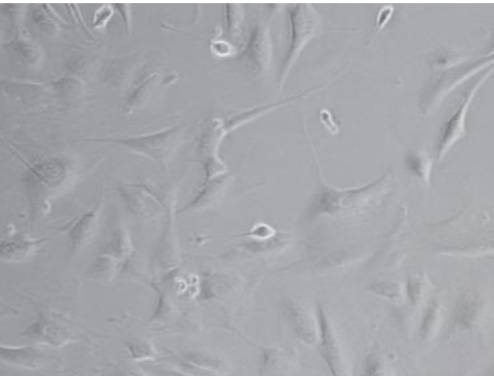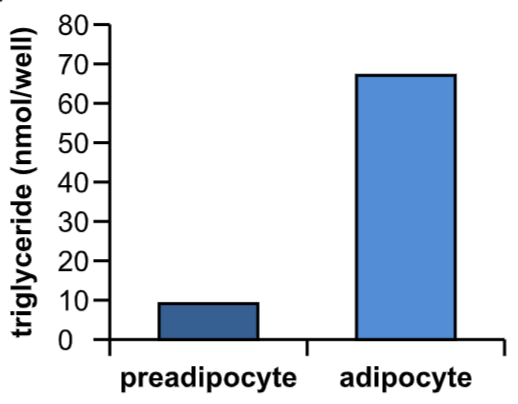 Figure: (a) 3T3-L1 cells before differentiation. (b) 3T3-L1 cells 7 days after the initiation of differentiation and stained with neutral lipid dye Oil Red O (Oil Red O staining kit). (c) Triglyceride levels in preadipocytes grown in a 96-well cell culture plate and in adipocytes 7 days after differentiation.
Key Information
Description

For 100 ml differentiation medium

Differentiation of 3T3-L1 preadipocytes to adipocytes
Study of obesity, adipogenesis, lipolysis and lipid metabolism

Simple, rapid & convenient method to differentiate 3T3-L1 preadipocytes to adipocytes

Insulin (1.5 mg/ml)
Differentiation Cocktail 1000x (Lyophilized)
DMSO (anhydrous)

For Research Use Only! Not For Use in Humans.
View All
Close