Description
AHCY Inhibitor Screening Kit (Fluorometric)
Adenosyl homocysteinase (AHCY) (EC 3.3.1.1) or S-adenosyl homocysteine hydrolase (SAHH); is an enzyme that catalyzes the reversible hydrolysis of S-Adenosyl Homocysteine (SAH) to adenosine and homocysteine. Inhibition of AHCY results in the accumulation of SAH, a product inhibitor of S-adenosyl methionine (SAM)-dependent methyltransferases. AHCY is an important target as an antiviral and anticancer drug. Several characterized SAH inhibitors inhibit some DNA viruses (e.g. Pox viruses) and some negative stranded RNA viruses (e.g.: Marburg virus, Ebola virus & rabies). In Assay Genie's AHCY Inhibitor Screening kit the homocysteine generated from the breakdown of SAH is measured using a Thiol Detecting Reagent resulting in enhanced fluorescence which is measured at Ex/Em = 392/482 nm. The AHCY reaction is reversible and hence Adenosine Deaminase is included in the reaction to ensure that the reaction proceeds towards hydrolysis of SAH. In the presence of AHCY inhibitor, there is a decrease in fluorescence of the Thiol Detecting Reagent.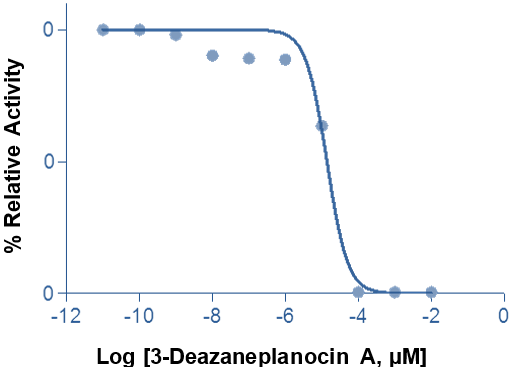 Figure: Inhibition of AHCY Enzyme activity by 3-Deazaneplanocin A. IC 50 of 3-Deazaneplanocin A was determined to be 0.137 nM. Assays are performed following the kit protocol.
Key Information
Description

Fluorescence (Ex/Em = 392/482 nm)

Screening/characterizing/studying AHCY inhibitors

Simple and reliable test to screen AHCY inhibitors
High-throughput suitable
Includes Inhibitor Control (3-Deazaneplanocin A)

AHCY Assay Buffer
AHCY Reconstitution Buffer
AHCY Enzyme
Adenosine Deaminase
3-Deazaneplanocin A (10 µM) (in DMSO)
AHCY Substrate (in DMSO)
Thiol Detecting Reagent (in DMSO)

For Research Use Only! Not For Use in Humans.
View All
Close