Description
alpha-Glucosidase Activity Colorimetric Assay Kit
Glucosidase breaks down 1,4 linked polysaccharides to glucose, which can be utilized as a source of energy. In the biotechnology industry, glucosidase is used to produce glucose from intermediate breakdown products of starch hydrolysis generated by enzymes such as amylase. Pompe disease, one of the 12 known glycogen storage diseases, is an autosomal recessive metabolic disorder attributed to glucosidase deficiency. In this disease, glycogen accumulates in the lysosomes, resulting in progressive muscle weakness, heart failure and other neurological symptoms. In Assay Genie's Glucosidase Activity Colorimetric Assay Kit, Glucosidase hydrolyzes the Substrate Mix to release the p-nitrophenol that can be measured colorimetrically (OD = 410 nm). This is an easy, quick and high-throughput capable kit that can measure 0.1-10 mU of glucosidase activity in a variety of samples.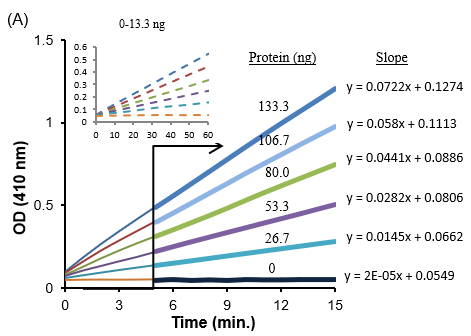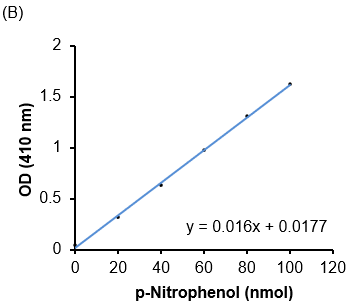 Figure: α-Glucosidase kinetic assay. (A) Kinetic profile of various amounts (0, 2, 4, 6, 8 & 10 mU) of α-glucosidase run at 25°C under this protocol. Inset: Results for 0-0.2-0.4-0.6-0.8-1.0 mU of α-glucosidase. Data points after 5 minutes were used to determine slope. (B) p- Nitrophenol Standard Curve. In this example, 133.3 ng of enzyme gave a slope of 0.722 OD/minute. From the slope of the standard curve, we see that 1 nmol of p- nitrophenol gives 0.016 OD. Sa/Ss = (0.0722/0.016) = 4.5125 nmol/min. Sample α -Glucosidase activity = (4.5125 mU / 0.1333μg) = 33.84 mU/μg or 33.84 U/mg protein.
Key Information
Description

Measurement of Glucosidase activity in biological samples
Screening Glucosidase inhibitors

Rapid and easy-to-use.
Highly-sensitive & high-throughput capable
This assay kit can measure 0.1-10 mU of glucosidase activity in a variety of sample.

Glucosidase Assay Buffer
Glucosidase Substrate Mix
Glucosidase Positive Control
p-Nitrophenol Standard (100 mM)

For Research Use Only! Not For Use in Humans.