Description
Anoikis is a form of cellular apoptosis induced by the inability of normal cells to attach to the extracellular matrix (ECM). Incorrect attachment or no ECM attachment could affect cell growth and differentiation in normal cells. However, research studies has determined that metastatic cells can undergo Anoikis without affecting their ability to migrate and invade surrounding or distant organs. Assay Genie's Anoikis assay kit quantifies. Live cells using fluorometric (Calcein AM) reagents and a proprietary coated chamber that mimics Anoikis conditions. Our assay is easy to use, sensitive and compatible with fluorimeters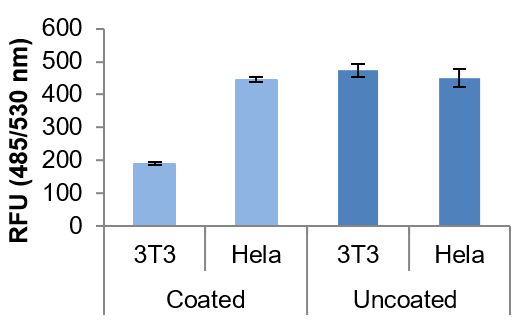 Figure 1: Anoikis Assay: 3T3-NIH and Hela Cells were used. 3T3 Cells undergo Anoikis (Apoptosis) in the Anoikis Chamber (coated)
plates, whereas cancer cells overcome Anoikis and are able to grow in absence of Anchorage (Chamber Control, Uncoated). No change was observed in cell growth in uncoated plates.
Key Information
Description

Fluorescence (Ex/Em = 485/530 nm)

Measure cell anoikis in response to stimuli.
Screen, study, or characterize compounds that influence Anoikis.
HTP adaptable

Highly sensitive fluorometric method to measure cell Anoikis in response to a variety of biochemical stimuli
Simple & High throughput-adaptable
Reproducible, Quantitative tool for screening, studying, and characterizing compounds that affect Anoikis

Assay Buffer
Anoikis Chamber
Chamber Control (Uncoated)
Calcein AM Dye

For Research Use Only! Not For Use in Humans.
View All
Close