Description
Apoptotic DNA Ladder Isolation Kit
Internucleosomal DNA fragmentation is a hallmark of apoptosis in mammalian cells. Assay Genie's Apoptotic DNA Ladder Extraction Kit provides an easy and sensitive means for detecting DNA fragmentation in apoptotic cells. The new procedure selectively extract DNA ladders without interference of intact genomic DNA, which significantly increase the cell numbers that can be can be extracted and load on one agarose gel well, therefore increase the detection sensitivity.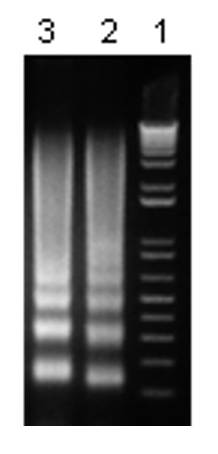 Figure: DNA ladders were extracted from 2x106 Jurkat cells treated with 2µM Camptothes, according to kit instructions. The kit extracts laddered DNA only, not the intact genomics, therefore more cells can be extracted and load on the agarose gel. Lane 1: 1 kb DNA ladder; Lane 2: 6 hour induction; Lane 3: 12 hour induction.
Key Information
Description

Agarose gel electrophoresis (with Ethidium Bromide)

Extraction of apoptotic DNA ladders without interference of intact genomic DNA

Simple one-step procedure; takes only 2-4 hours
Fast and convenient
The kit can extract apoptotic DNA ladder from both tissues and cells with as little as 5% or less apoptotic cell population.

DNA Ladder Extraction Buffer
Enzyme A Solution
Enzyme B (Lyophilized)
Ammonium Acetate Solution
DNA Suspension Buffer

For Research Use Only! Not For Use in Humans.
View All
Close