Description
Chymotrypsin Activity Assay Kit (Fluorometric)
Chymotrypsin (EC 3.4.21.1) is a key serine protease involved in dietary protein digestion in mammals. It is primarily produced by the pancreas, but may be expressed in other tissues, including spleen and liver. In the pancreas, chymotrypsin is initially expressed as the inactive proenzyme chymotrypsinogen, which is cleaved by other proteases to chymotrypsin, its active form. Chymotrypsin specifically cleaves peptide bonds at the C-terminal end of bulky hydrophobic or aromatic amino acids (such as tyrosine, tryptophan or phenylalanine). Assay Genie's Chymotrypsin Activity Assay kit uses a synthetic fluorogenic substrate, enabling kinetic measurement of chymotrypsin activity in cell and tissue lysates. A chymotrypsin activator cleaves chymotrypsinogen to form active chymotrypsin, which then hydrolyzes the non-fluorescent substrate to release a stable fluorophore (Ex/Em = 380/460 nm). The kit includes a selective chymotrypsin inhibitor that can be used to measure specific chymotrypsin activity in samples containing non-specific proteases and endopeptidases that may also metabolize the substrate. The assay can detect as low as 0.01 mU of Chymotrypsin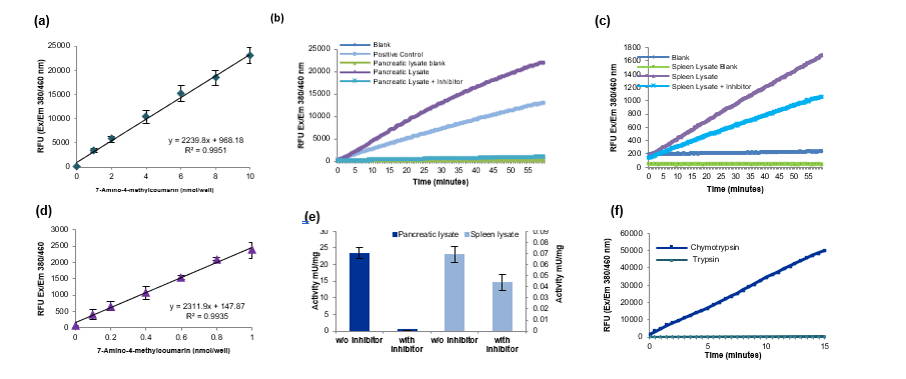 Figure: (a) Coumarin standard curves showing a range of 0-10 nmol/well. (b) Reaction kinetics for positive control and rat pancreatic lysate (9 µg). (c) Reaction kinetics for rat spleen lysate (160 µg). (d) Coumarin standard curves showing a range of 0-1 nmol/well. (e) Chymotrypsin activity with and without inhibitor in rat pancreas and rat spleen. The presence of non-specific chymotrypsin-like proteases in spleen leads to some activity in presence of the selective chymotrypsin inhibitor. (f) Reaction kinetics using substrate in the presence of Chymotrypsin or Trypsin. The substrate is cleaved by chymotrypsin but not trypsin, making the assay free from trypsin interference.
Kit Components
Description

Detection method- Fluorometric (380/460 nm)
Species reactivity- Mammalian
Application- The assay can detect as low as 0.01 mU of Chymotrypsin in various samples.

Fluorescence (Ex/Em= 380/460 nm)

Measurement of chymotrypsin activity in tissues / cultured cells.

Simple procedure; takes ~ 1-2 hours
Fast and convenient

Chymotrypsin Assay Buffer
Chymotrypsin Substrate
Chymotrypsin Activator
Chymotrypsin Inhibitor
Coumarin Standard (1 mM)
Chymotrypsin Positive Control

For Research Use Only! Not For Use in Humans.
View All
Close