Description
Cyclooxygenase-1 (COX-1) Inhibitor Screening Kit (Fluorometric)
Cyclooxygenase (COX), also known as prostaglandin-endoperoxide synthase (PTGS, EC 1.14.99.1), is an enzyme that is responsible for the formation of important biological mediators called prostanoids, including prostaglandins, prostacyclin and thromboxane. COX is the central enzyme in the biosynthetic pathway to prostanoids from arachidonic acid. There are two known isoenzymes: COX-1 and COX-2. COX-1 is constitutively expressed in many tissues and is the predominant form in gastric mucosa and in kidney. COX-2 is not expressed under normal conditions in most cells, but elevated levels are found during inflammation. Pharmacological inhibition of COX by non-steroidal anti-inflammatory drugs (NSAID) can provide relief from the symptoms of inflammation and pain. Assay Genie's COX-1 Inhibitor Screening Kit offers a rapid, simple, sensitive, and reliable test suitable for high-throughput screening of COX-1 inhibitors. The assay is based on the fluorometric detection of Prostaglandin G2, the intermediate product generated by the COX enzyme.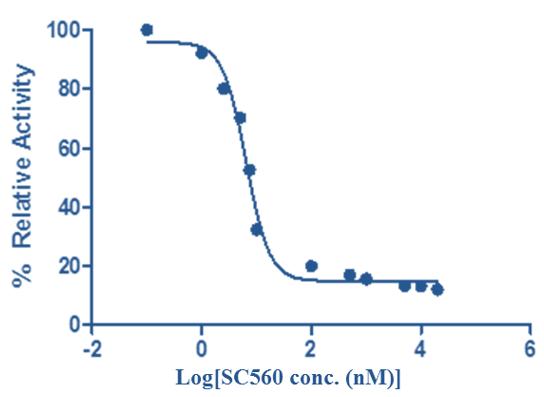 Figure: Inhibition of COX-1 Activity with SC560. IC 50 of SC560 was determined to be 6.45 nM. Assay was performed following the kit protocol.
Key Information
Description

Fluorescence (Ex/Em 535/587 nm)

Screening/studying/characterizing COX-1 inhibitors.

Simple method to screen COX-1 inhibitors
High-throughput
Includes Inhibitor Control, SC560

COX Assay Buffer
COX Probe (in DMSO)
COX Cofactor (in DMSO)
Arachidonic Acid
NaOH
COX-1, Ovine
SC560, COX-1 inhibitor (in DMSO)

For Research Use Only! Not For Use in Humans.
View All
Close