Description
Enolase Activity Colorimetric/Fluorometric Assay Kit
Enolase (EC 4.2.1.11), also called 2-phospho-D-glycerate hydrolase or 2-phosphoglycerate dehydratase, is a key enzyme in glycolysis. It converts 2-phosphoglycerate to phosphoenolpyruvate (PEP) & also catalyzes the reverse reaction, PEP to 2-phosphoglycerate under anabolic conditions during gluconeogenesis. In mammals, Enolase consists of three subunits: Beta and that combine into 5 isozymes, 3 of which are commonly found in human tissues. This enzyme exists in all organisms, which can undergo glycolysis. Besides its role in glycolysis, enolase has other functions too. Recent studies have shown that increased activity of enolase is associated with tumor invasion and metastasis; therefore, precise measurement of enolase activity may be of great interest for tumor diagnosis and prognosis. In Assay Genie's Enolase Activity Assay Kit, enolase catalyzes the conversion of 2-phosphoglycerate to phosphoenolpyruvate, which is subsequently used to generate an intermediate product. The intermediate product stoichiometrically reacts with GenieRedTM probe to generate color (OD 570 nm) or fluorescence (Ex/Em = 535/587 nm). This simple & sensitive assay Kit can detect enolase activity less than 0.04 mU in a variety of samples.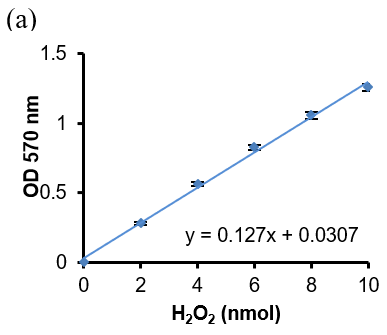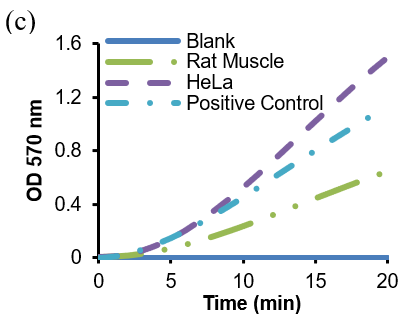 Figure: (a) H2O2 Standard Curve for Colorimetric Assay (b) H2O2 Standard Curve for Fluorometric Assay & (c) Enolase Activity in rat muscle lysate (1 µg), HeLa lysate (5 µg) and positive control. Assays were performed following the kit protocol.
Key Information
Description

Absorbance (OD 570 nm) or fluorescence (Ex/Em = 535/587 nm)

Measurement of enolase activity in various tissues/cells
Analysis of glycolytic metabolism in different tissues/cells
Mechanistic studies of various cancers
Screening anti-cancer drugs

Rapid and easy-to-use.
Highly-sensitive.
This assay kit can measure less than 0.04 mU of enolase activity in a variety of samples.

Enolase Assay Buffer
GenieRedTM Probe (in DMSO)
Enolase Substrate Mix (Lyophilized)
Enolase Converter (Lyophilized)
Enolase Developer (Lyophilized)
Enolase Positive Control (Lyophilized)
H2O2 Standard (0.88 M)

For Research Use Only! Not For Use in Humans.