Description
Ethanol Colorimetric/Fluorometric Assay Kit
Alcohol (ethanol CH) is among the most widely consumed drinks. Low doses of alcohol may help circulation while heavy alcohol consumption may lead to various forms of disease. Quantitative determination of alcohol finds applications in basic research, drug discovery, clinical studies and fermentation industry processes. Assay Genie's Ethanol Assay Kit provides a simple, rapid, and sensitive method for accurate quantification of ethanol concentration in a variety of biological samples such as serum, plasma, other body fluids, foods, beverages and growth media. Alcohol oxidase oxidizes ethanol to generate Hwhich reacts with our probe to generate color (ax= 570 nm) and fluorescence (Ex/Em = 535/587 nm). The kit detects 0.1-10 ppm alcohol (~10-800 nM).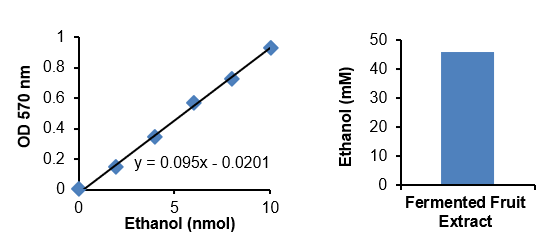 Figure: a) Ethanol Standard Curve. b) Measurement of Ethanol in fermented fruit extract (Cherry extract, 5 ul, 50X diluted). Fruit extract was treated with Carrez Clarification Reagent Kit (K809) for protein precipitation, spin filtered and diluted for the assay. Assay was performed following the kit protocol.
Key Information
Description

Absorbance (570 nm) or Fluorescence (Ex/Em 535/587 nm)

The kit detects 0.1-10 ppm alcohol (~10-800 nM).

Simple procedure; takes ~40 minutes - 1 hour
Fast and convenient
Kit contains the necessary reagents for accurate measurement of ethanol in biological samples

Ethanol Assay Buffer
Ethanol Probe (in DMSO,anhydrous)
Ethanol Enzyme Mix (lyophilized)
Ethanol Standard (MW:46.07, 17.15N)

For Research Use Only! Not For Use in Humans.
View All
Close