Description
HDAC3 Inhibitor Screening Kit (Fluorometric)
Histone deacetylases (HDACs) represent a large family of enzymes identified as key regulators of nucleosomal histone acetylation, a major event that controls eukaryotic gene transcription and are classified into three groups. They are believed to be involved in important biological activities, such as cell differentiation, proliferation, apoptosis, and senescence. In Assay Genie's HDAC-3 Inhibitor screening Kit, HDAC-3 and developer will deacetylate and cleave the substrate [Arg-His-Lys-Lys(Ac)-AFC] to release the quenched fluorescent group (AFC), which can be detected at Em/Ex=380/500 nm. In presence of a HDAC-3 inhibitor, the cleavage will be inhibited. The kit provides a rapid, simple, sensitive, and reliable test, which is also suitable for high throughput screening of HDAC-3 inhibitors. Trichostatin A (TSA) is included as a control inhibitor to compare the efficacy of the test inhibitors.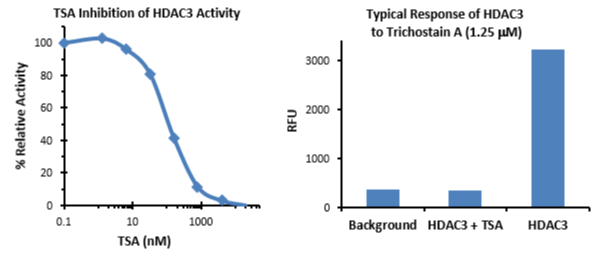 Figure: (a) TSA Inhibition of HDAC3 Activity (b) Typical Response of HDAC3 to Trichostain A (1.25µM)
Key Information
Description

Fluorescence (Em/Ex = 380/500 nm)

Suitable for high throughput screening of HDAC3 inhibitorsv

Simple procedure; takes ~ 60 min
Fast and convenient
Kit contains the necessary reagents for testing putative HDAC3 inhibitors

HDAC3 Assay Buffer
HDAC3 Substrate
HDAC-3 Enzyme
Developer
Trichostatin A

For Research Use Only! Not For Use in Humans.
View All
Close
Additional Information
| | |
| --- | --- |
| Product type: | Cellular Assay |
View All
Close