Hexokinase (HK) Inhibitor Screening Kit (Colorimetric) (BN01045)
SKU:

BN01045

UPC:

Product type:

Cellular Assay
Frequently bought together:
Description
Hexokinase (HK) Inhibitor Screening Kit (Colorimetric)
Hexokinases (HK) play an important role in glucose metabolism. Hexokinases phosphorylate glucose and generate glucose-6-phosphate for glycolysis. Hexokinases have four isoforms (HK-I, II, III and IV). HK-I, HK-II and HK-III have low Km, while HK-IV has 100 fold high Km. Hexokinase deficiency leads to severe human diseases such as X-linked muscular dystrophy and a rare autosomal recessive hemolytic anemia. On the other hand, increased hexokinase activity is detected in various tumors and is associated with metastasis. In Assay Genie's Hexokinase Inhibitor Screening kit, glucose is converted to glucose-6-phosphate by hexokinase; the glucose-6-phosphate is oxidized by glucose-6-phosphate dehydrogenase to form NADH, which reduces a colorless probe to a colored product with strong absorbance at 450 nm. In the presence of a Hexokinase inhibitor, the reaction is impeded/abolished resulting in decrease or total loss of absorbance. This assay kit can be used to screen/study/characterize the potential inhibitors of Hexokinase. The assay is simple, high-throughput adaptable and can be performed within 30 min.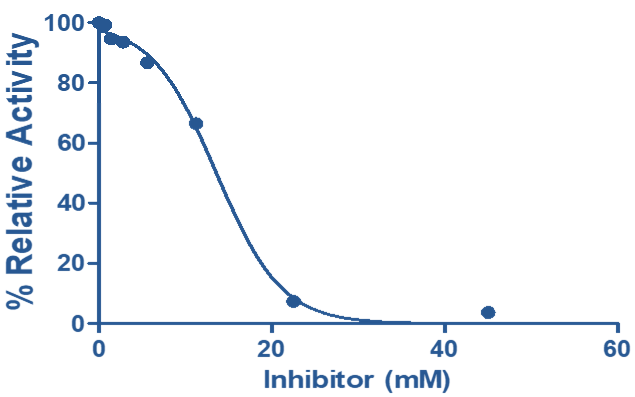 Figure: Inhibition of Hexokinase activity by Hexokinase inhibitor (Bromopyruvic Acid). Assay was performed following the kit protocol.
Key Information
Description

Screening/characterizing/studying potential inhibitors of Hexokinase.
A simple and high-throughput adaptable assay kit used to colorimetrically (450 nm) screen/study/characterize potential inhibitors of Hexokinase within 30 min.

Simple and High throughput adaptable
Colorimetric Detection
Screen within 30 min

HK Assay Buffer
HK Substrate
HK Coenzyme
HK Converter
HK Developer Hexokinase
HK Inhibitor Control

For Research Use Only! Not For Use in Humans.