Description
Human Hexokinase (HK) Inhibitor Screening Kit (Colorimetric)
Hexokinases (HK, EC: 2.7.1.1) are found in many organisms including bacteria, plants and mammals and play an important role in glucose metabolism. The Hexokinase family phosphorylates glucose and generates glucose-6-phosphate for glycolysis. Four Hexokinase isoforms (HK-I, II, III and IV) are found in numerous species. HK-I, HK-II and HK-III have low affinity for glucose, one of their natural substrates, while HK-IV show high affinity for this monosaccharide. Recent studies have found increased hexokinase activity in various human metastatic tumors. Moreover, Hexokinase II (HKII) is the main isoform of the Hexokinases and is responsible for malignant phenotypes. HKII binds to the outer mitochondrial membrane via the Voltage-Dependent Anion Channel (VDAC), a Porin-like protein. HKII has become an attractive therapeutic target for its role in cancer metastasis. Assay Genie's Human Hexokinase II (HKII) Inhibitor Screening kit uses the HKII's ability to convert glucose into glucose-6-phosphate. Glucose-6-phosphate is oxidized by glucose-6-phosphate dehydrogenase to form NADH, which reduces a probe that shows strong absorbance at 450 nm. In the presence of Bromopyruvic Acid, reactions are impeded, thus decreasing the rate and/or extent of generation of Hexokinase -dependent absorbance at OD 450 nm. Hexokinase Inhibitor Control is included to compare the efficacy of test inhibitors. This kit provides a sensitive, quick, and easy method for screening potential inhibitors of Hexokinase. The assay is high-throughput adaptable and can be performed in less than 30 min.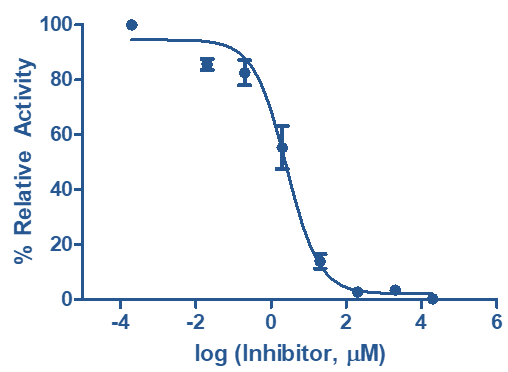 Figure: Inhibition of Human Hexokinase II activity by Bromopyruvic Acid (IC50 = 3 µM). Assay was performed following the kit protocol.
Key Information
Description

Screening/characterizing/studying potential inhibitors of human Hexokinase

Simple and High throughput adaptable
Colorimetric Detection Screen within 30 min

HK Assay Buffer
HK Substrate
HK Coenzyme
HK Converter
HK Developer
Hexokinase II (human)
HK Inhibitor
Control (Bromopyruvic Acid)

For Research Use Only! Not For Use in Humans.
View All
Close