Description
Isocitrate Colorimetric Assay Kit
Isocitric acid (HOOC-CHOH-CH (-COOH)-CHCOOH) is an intermediate of the Krebs TCA cycle, positioned between citrate and keto-glutarate. It is the branch point from which the glyoxylate shunt operates in plants and lower organisms. Isocitrate is found in substantial concentrations in many fruits and vegetables as well as in foods produced from these raw materials. In the TCA cycle, isocitrate is oxidized by isocitrate dehydrogenase (IDH) to ketoglutarate with the generation of NAD(P)H. Loss of NAD-IDH has been implicated as a potential causative factor in retinitis pigmentosa. Assay Genie's Isocitrate Assay Kit provides a simple, sensitive and rapid means of quantifying isocitrate in a variety of samples. In the assay, isocitrate is oxidized with the generation of NADPH which converts a nearly colorless probe to an intensely colored species with a ax of 450nm. The Isocitrate Assay Kit can detect 1 to 20 nmoles (~0.2-5 µg) of isocitrate.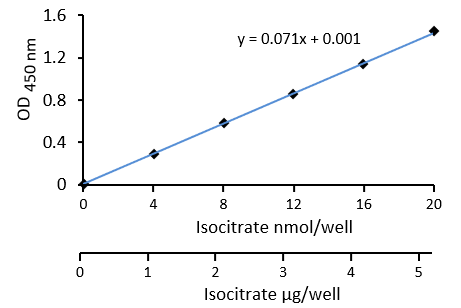 Figure 1: Isocitrate standard curve generated using this kit protocol.
Key Information
Description

Isocitrate Assay Kit can detect 1 to 20 nmoles (~0.2-5 µg) of isocitrate.

Simple procedure; takes ~ 40 minutes
Fast and convenient
Kit contains all necessary reagents for accurate measurement of isocitrate levels

Isocitrate Assay Buffer
Isocitrate Enzyme Mix
Substrate Mix
Isocitrate Standard (100 mM)

For Research Use Only! Not For Use in Humans.
View All
Close