Description
LDH High Sensitivity Cytotoxicity Colorimetric Assay Kit
Cell death or cytotoxicity is classically evaluated by the quantification of plasma membrane damage. Lactate dehydragenase (LDH) is a stable enzyme, present in all cell types, and rapidly released into the cell culture medium upon damage of the plasma membrane. LDH, therefore, is the most widely used marker in cytotoxicity study. Assay Genie's LDH Cytotoxicity Assay Kit II utilizes the advanced WST reagent for a fast and more sensitive detection of LDH released from damaged cells. The assay utilizing an enzymatic coupling reaction: LDH oxidizes lactate to generate NADH, which then reacts with WST to generate yellow color. The intensity of the generated color correlates directly with the cell number lysed. Since WST is brighter, less amount of culture medium is required for the assay, and thus the background from serum and culture medium is significantly reduced. Using the assay, cells can be cultured in regular 10% serum containing medium, no reducing serum or special medium is required for the assay. In addition, since the WST is more stable, the reaction can be read multiple times, and can also be stopped at any time point during the reaction. LDH activity can be easily quantified by spectrophotometer or plate reader at OD450 nm. The kit provides all necessary reagents including LDH positive control. Assay takes less than 1 hour.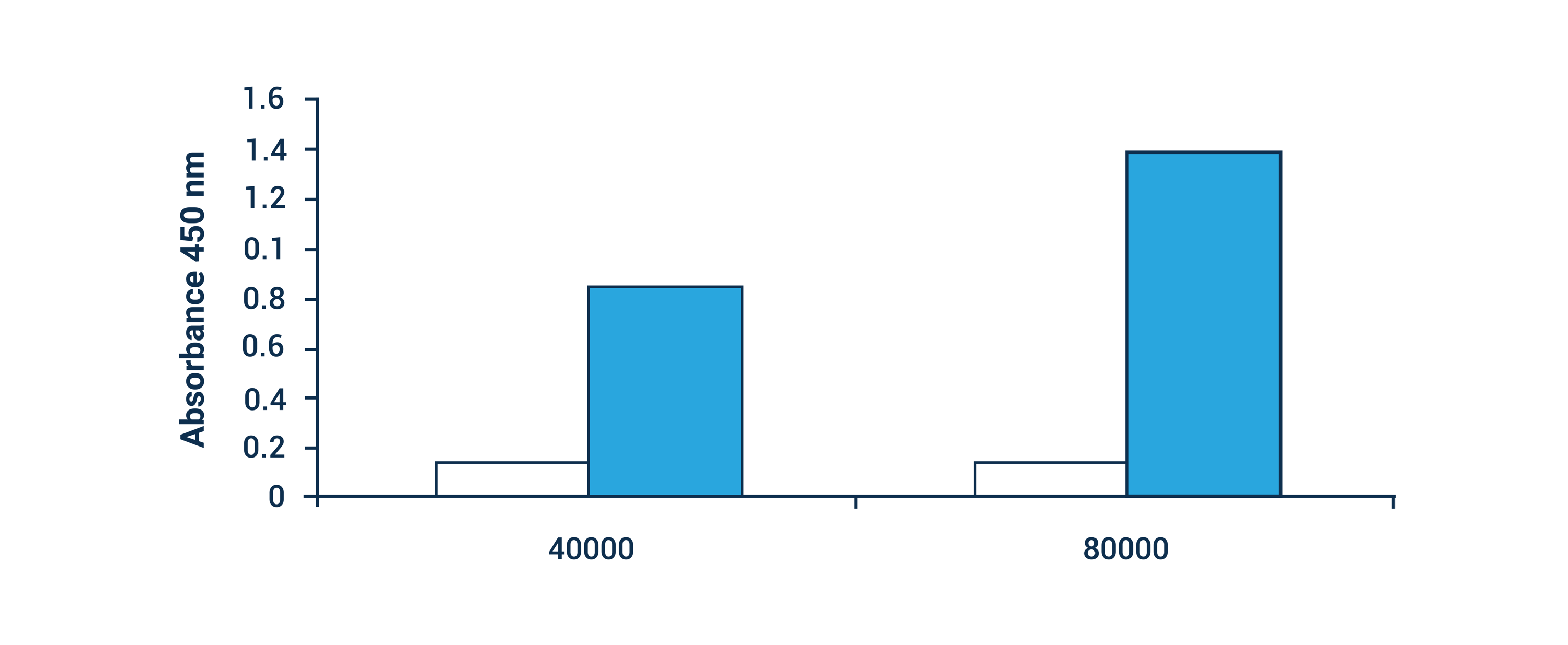 Figure: LDH Cytotoxicity Assay Kit II. Jurkat T cells were cultured in 96-well plate in 100 µl of culture medium. LDH Assay was performed using 10µl of culture medium using the WST probe. Low control (white bar); High control (black bar).
Key Information
Description

This assay provides a convenient and Wst-based non-radioactive assay for measurement of activity of lactate dehydrogenase (LDH) which is a stable enzyme normally found in the cytosol of all cells but rapidly releases into the supernatant upon damage of plasma membrane.

Simple one-step procedure; takes around than 1 hour
Fast and convenient

WST Substrate Mix
LDH Assay Buffer
Cell Lysis Solution
Stop Solution
LDH (0.1 µg/ml)

For Research Use Only! Not For Use in Humans.
View All
Close