Description
Lysyl Oxidase Activity Assay Kit (Fluorometric)
Lysyl oxidase is a cell-secreted amine oxidase that catalyzes the final step of collagen and elastin cross-linking. As a result, lysyl oxidase is required for the biosynthesis of functional extracellular matrices. Inhibition of lysyl oxidase can result in osteolathyrism, a condition characterized by fragile connective tissue and paralysis. Recent work has also suggested lysyl oxidase to play an important role in cancer development: Lysyl oxidase promotes tumor growth and progression in vivo, cancer cell invasion, and premetastatic niche formation. Assay Genie's Lysyl Oxidase Activity Fluorometric Assay Kit allows for quantitative evaluation of lysyl oxidase activity of purified enzyme and its inhibitors as well as secreted endogenous enzyme in cell media. Enzyme activity is detected upon oxidation of substrate, which results in release of reaction intermediates. Reaction intermediates are subsequently detected by Assay Genie's LOX Probe, resulting in fluorescent signal that can be measured at Ex/Em= 535/587 nm. Each kit includes a positive control as well as a specific lysyl oxidase inhibitor that allows the user to correct each sample for any non-specific signal. Lysyl Oxidase Activity Fluorometric Assay Kit can detect as little as 40 ng of recombinant enzyme in vitro.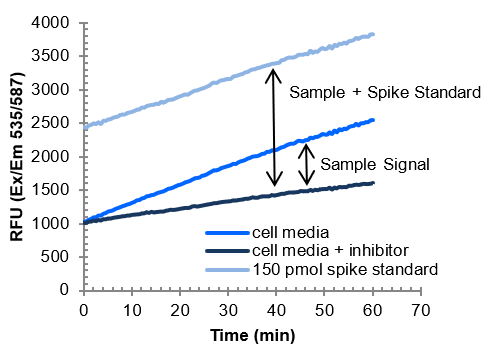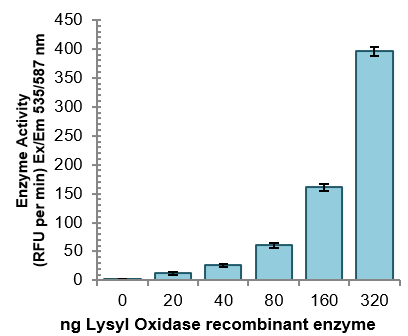 Figure: a) Enzyme activity at varying concentrations of recombinant Lysyl Oxidase b) representative activity curve for cell media sample and cell media spike standard at 37°C, where cell media is test sample, cell media + inhibitor is negative control and 150 pmol spike standard is sample + spike standard.
Key Information
Description

Detection method - Flurometric (535/587 nm)
Species reactivity - Mammalians
Applications - Measurement of Lysyl Oxidase activity in various biological samples, and purified proteins Includes active lysyl oxidase

Fluorometric (Ex/Em = 535/587 nm)

Measurement of Lysyl Oxidase activity in various biological samples and protein preparations

Simple, highly sensitive, high-throughput compatible
Includes active Lysyl Oxidase

LOX Assay Buffer
LOX Substrate
LOX Developer
LOX Probe (in DMSO)
LOX Positive Control
LOX Inhibitor
LOX Standard (0.88 M)

For Research Use Only! Not For Use in Humans.
View All
Close