Description
Methanol Assay Kit (Colorimetric)
Methanol is the simplest alcohol, consisting exclusively of a methyl group and a hydroxyl moiety. It is both an important industrial molecule (solvent, fuel, building block for chemical synthesis) and a biological metabolite; many bacteria generate methanol as a result of anaerobic metabolism. In humans, ingestion of large quantities of methanol is toxic and suppresses the nervous system; this is termed 'methanol poisoning'. As such, methanol is frequently used as an additive in industrial alcohols to prevent human consumption. The toxicity of methanol is primarily due to the biological product of its metabolism, formaldehyde, which is further metabolized into formic acid. At lower concentrations, methanol poisoning can cause loss of coordination and discomfort, and at higher concentrations will lead to kidney failure, blindness, and even death. In the gut, microbial breakdown of pectin-rich foods produces small amounts of methanol. In addition, some bacteria are capable of metabolizing methane gas, generating methanol, and so monitoring methanol concentration is also relevant for industrial purposes and renewable energy research. Assay Genie's Methanol Assay Kit utilizes an enzymatic mechanism by which conversion of methanol is correlated stoichiometrically with generation of a colorimetric signal that can be quantified at 450 nm. The assay shows greater than 100-fold specificity for methanol over ethanol. The method is suitable for use in a range of biological and consumable samples, and can detect as little as 500 pmol methanol.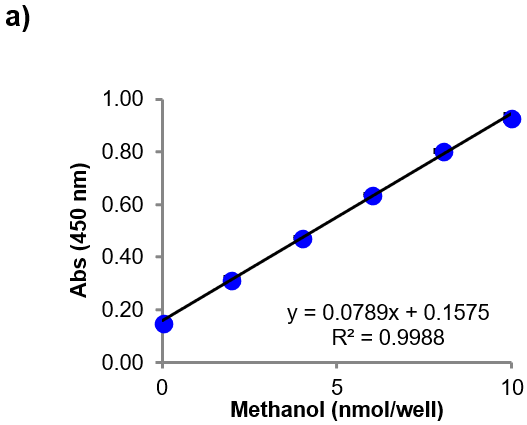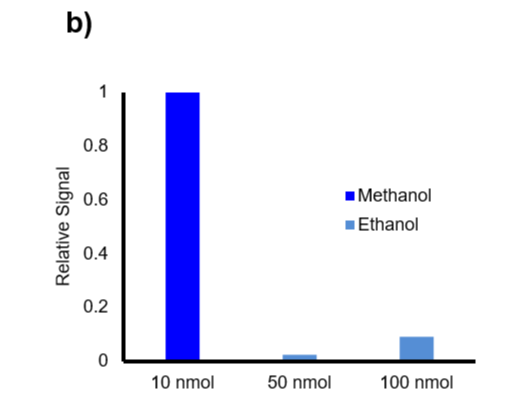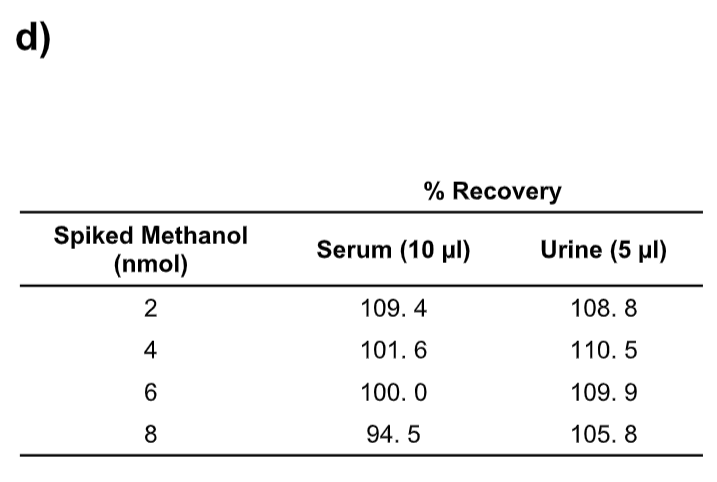 Figure 1: (a) Methanol Standard Curve. (b) Selectivity of Assay: Response to various quantities of methanol and ethanol. (c) Methanol in serum. Methanol concentration was determined to be 54. 4 µM in human serum (10 µl; undiluted). (d) Methanol Recovery in biological fluids: Human serum (pooled) or urine was filtered and spiked with indicated quantities of methanol. Assays were run according to protocol.
Key Information
Description

Detection method-Absorbance (450 nm)
Sample type- Cell and Tissue culture supernatants, urine, plasma and serum, as well as many other samples
Species reactivity- Mammalian /others
Application- The kit detects 500 ppm Methanol

Determination of methanol in biological samples, anaerobic bacterial cultures, agricultural products and food products

Simple procedure; takes ~40 minutes - 1 hour
Fast and convenient
Kit contains the necessary reagents for accurate and specific measurement of Methanol in biological samples

Methanol Assay Buffer
Methanol Developer
Methanol Enzyme Mix
Methanol Probe
Pure Methanol Stock (24.7 M)

For Research Use Only! Not For Use in Humans.
View All
Close