Description
Neprilysin Inhibitor Screening Kit (Fluorometric)
Neprilysin (NEP, EC 3.4.24.11), also known as neutral endopeptidase, enkephalinase, CD10, and common acute lymphoblastic leukemia antigen, is a type II zinc-containing transmembrane metalloproteinase. It is able to hydrolyze very important endogenous peptides, such as natriuretic atrial factor, enkephalins, substance P, bradykinin and amyloid beta-peptide. Thus, NEP is a potentially therapeutic target in important pathological conditions such as cardiovascular disease, prostate cancer, Alzheimer's disease and analgesia. NEP has also been used as a biological marker of a type of childhood leukemia called CALLA. NEP is currently a focus of interest in cardiovascular and neurobiological research. NEP inhibitors have shown promising results as potential treatment alternative for some conditions including hypertension, heart failure, renal failure, and improvement of Beta-cell function in obese type 2 diabetes mellitus. The combination of NEP inhibitor and angiotensin II type 1 receptor blockade has been used clinically to treat patients with chronic heart failure. Assay Genie's NEP Inhibitor Screening Kit can be used to screen for potential inhibitors of NEP activity. It utilizes the ability of an active NEP to cleave a synthetic MCA based peptide substrate to release a free fluorophore. The released MCA can be easily quantified using a fluorescence microplate reader. In the presence of an NEP specific inhibitor, the enzyme loses its activity which results in decrease of fluorescence intensity. The assay kit is simple and can be used to identify and characterize NEP inhibitors in a high-throughput format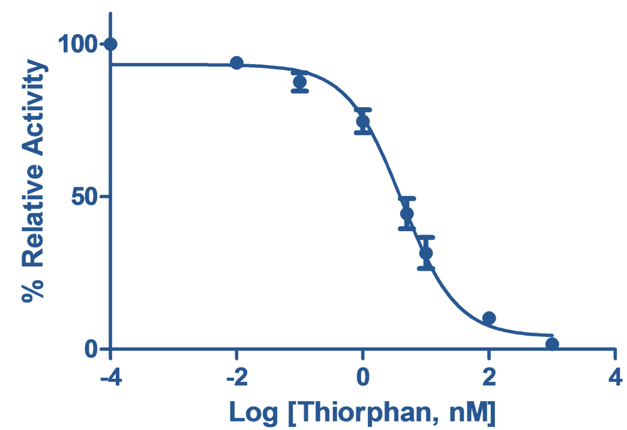 Figure: Inhibition of Neprilysin activity by Thiorphan. IC50 of Thiorphan was calculated to be 4.16 nM. Assay was carried out following the kit protocol.
Key Info
Description

Fluorometric (Ex/Em = 320/420 nm)

Screening/characterizing/studying Neprilysin inhibitors/activators

Simple and reliable test to screen Neprilysin inhibitors/activators
High-throughput compatible Includes Inhibitor Control (Thiorpan)

NEP Assay Buffer
NEP Enzyme (Lyophilized)
NEP Substrate (in DMSO) NEP Inhibitor (10 mM Thiorpan)

For Research Use Only! Not For Use in Humans.
View All
Close