Description
p300 Inhibitor Screening Assay Kit (Fluorometric)
p300 (EC 2.3.1.32) or KAT3B, a histone acetyltransferase, contributes to transcriptional activation by acetylating chromatin on the lysine residues of H3 and H4 histones. There is growing evidence that p300 plays an important role in cancer cell proliferation and differentiation. p300 inhibitors have potential applications in cancer therapy. Assay Genie's p300 Inhibitor Screening Kit utilizes a H3 peptide and Acetyl CoA as the substrates. p300 acetylates the peptide and generates CoA-SH with a free thiol group. The CoA is detected using a Thiol Detecting Probe that reacts with thiol groups and gives enhanced fluorescence that can be measured at Ex/Em = 392/482 nm. In the presence of p300 specific inhibitors, the enzymatic activity is inhibited resulting in decreased or total loss of fluorescence. This assay kit is a simple, sensitive, and rapid tool to screen potential inhibitors of p300.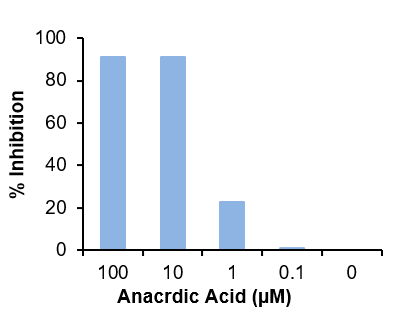 Figure 1: Inhibition of p300 activity by the p300 Inhibitor [Anacardic Acid] (Cat. # 1849). Assays were performed following the kit protocol.
Key Information
Description

Fluorescence (Ex/Em = 392/482 nm)

Screening/studying/characterizing potential inhibitors of p300

Simple procedure; takes ~ 45 min
Fast and convenient
Kit contains the necessary reagents for testing putative p300 inhibitors

p300 Assay Buffer
p300 Enzyme
Acetyl CoA (Lyophilized)
H3 Peptide (Lyophilized)
Thiol Detecting Probe
p300 Inhibitor (Anacardic Acid, 5 mM)

For Research Use Only! Not For Use in Humans.
View All
Close