Description
p53 Nuclear Translocation Assay Kit (Cell-Based)
p53 is a tumor suppressor gene which encodes a transcription factor that controls cell's destiny. This gene gets activated when cells are exposed to increased cellular stress, or DNA damage. The levels of p53 are elevated when post-translational modifications occur, which block its sequestration and/or ubiquitination by its destabilizer, Mouse Double Minute 2 Homolog (MDM2) which in turn is a transcriptional target of p53. Due to the three putative nuclear localization signals (NLSs) on its C-terminus, some of the activated p53 protein translocates into the nucleus and activate genes that induce cell cycle arrest, senescence, or apoptosis. The p53 gene is frequently mutated in cancer cells, and about 50% of cancers show p53 mutations, resulting in loss of its functions. The loss of p53 functionality can lead to dysregulation of many biological processes in cells, such as metabolic pathways, cellular homeostasis, cell movement, apoptosis, etc. Assay Genie's p53 Nuclear Translocation Assay Kit (Cell-Based) provides an easy and complete assay kit to visualize the activation and nuclear translocation of p53 in human cells. This assay kit uses Assay Genie's specific and sensitive human p53 antibody and a p53 secondary antibody to visualize the localization of p53 in fixed common human cells along with DAPI, a fluorescent stain, for nuclear staining. The kit includes Nutlin-3, a potent selective inhibitor that disrupts the protein-protein interaction between p53 and MDM2. Nutlin-3 serves as a control to induce p53 translocation from the cytoplasm to the nucleus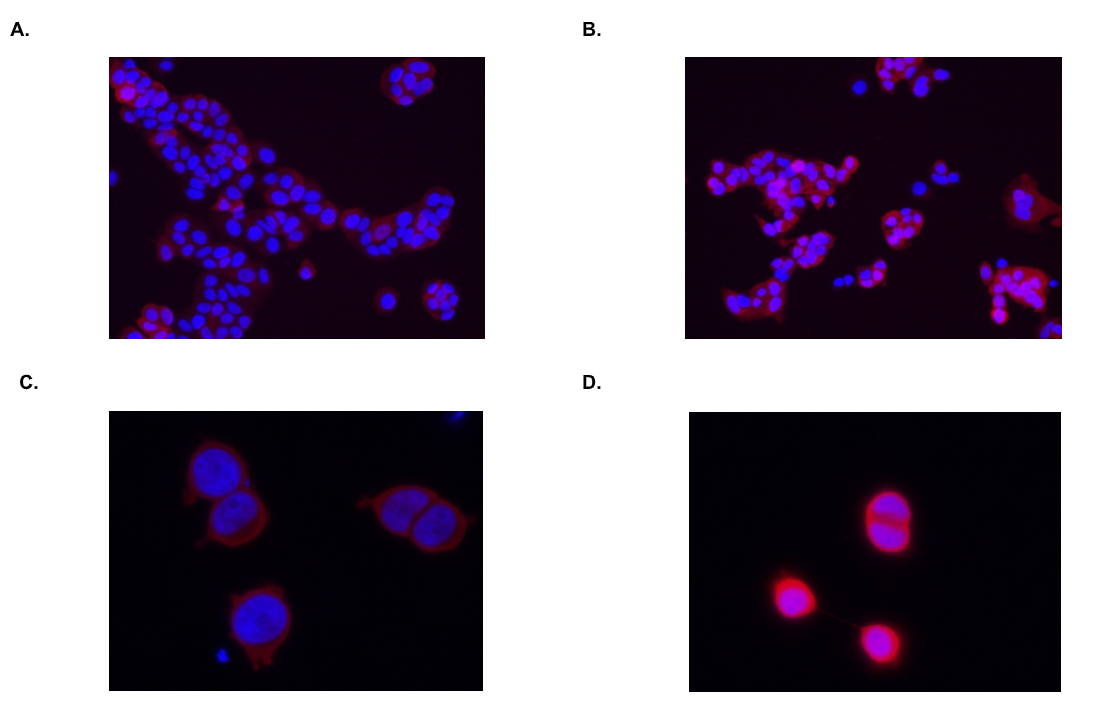 Figure: p53 Activation and Translocation in MCF-7 cells. MCF-7 cells were seeded into a 48-well tissue culture plate at 1X10 4 cells/well. After 1 day of culturing, cells were treated with 1X Nutlin-3 for 4 hrs. After treatment, cells were fixed and stained for p53 translocation and DAPI according to the kit's protocol. A&C: MCF-7 cells were treated with vehicle control; B&D: MCF-7 cells treated with 1X Nutlin-3. (Magnification used A&B: 20X; C&D: 60X oil).
Key Information
Description

Fluorescence (Ex/Em = 360/460 nm)

Visualize nuclear translocation and activation of p53 protein in mammalian cells.

Simple procedure to visualize p53 nuclear translocation in ~ 3 hours
Fast and contains Nutlin-3 that serves as a control to induce p53 translocation from the cytoplasm to the nucleus.

1X Fixative Solution
1X Permeabilization Buffer
1X Blocking Buffer
p53 Primary Antibody (500X)
Nutlin-3 Reagent (200X)
DAPI (1000X)

For Research Use Only! Not For Use in Humans.
View All
Close