Description
PPAR gamma Ligand Screening/Characterization Assay Kit (Fluorometric)
The Peroxisome Proliferator Activated Receptor (PPAR) family of ligand-activated transcription factors consists of three subtypes encoded by separate genes: PPAR PPARand PPAR Of these, PPARplays an important role in the regulation of fatty acid storage and glucose metabolism. The genes activated by PPARstimulate lipid uptake and adipogenesis by fat cells. Many endogenous molecules such as, polyunsaturated fatty acids like arachidonic acid and its metabolites, are known to bind and activate PPAR The binding of activating ligands to the ligand binding domain (LBD) of PPARpromotes its heterodimerization with retinoic acid-like receptor (RXR), which results in the regulated expression of target genes involved in lipid metabolism. Such ligand-based activation of PPARmay be responsible for inhibiting the growth of cultured human breast, gastric, lung, prostate and other cancer cell lines. In addition, the thiazolidinedione-based anti-diabetic drugs activate PPARwith greater specificity than PPAR Assay Genie's PPARLigand Screening Assay Kit provides a single step fluorescence-based assay for screening potential PPARspecific ligands. The assay utilizes the ability of potential PPARbinding ligands to displace a fluorescent probe, which has a strong affinity for PPARLigand Binding Domain, resulting in loss of fluorescence of the probe. The relative drop in the fluorescence, as a result of competitive binding of PPARligand, can be correlated to the affinity (and hence IC50) of the PPARcandidate ligand. Assay Genie's PPARLigand Screening Assay Kit is easy to use, faster and more convenient as compared to Fluorescence Polarization and TR-FRET-based screening methods. The assay kit can be used to identify and characterize PPARspecific ligands for therapeutic applications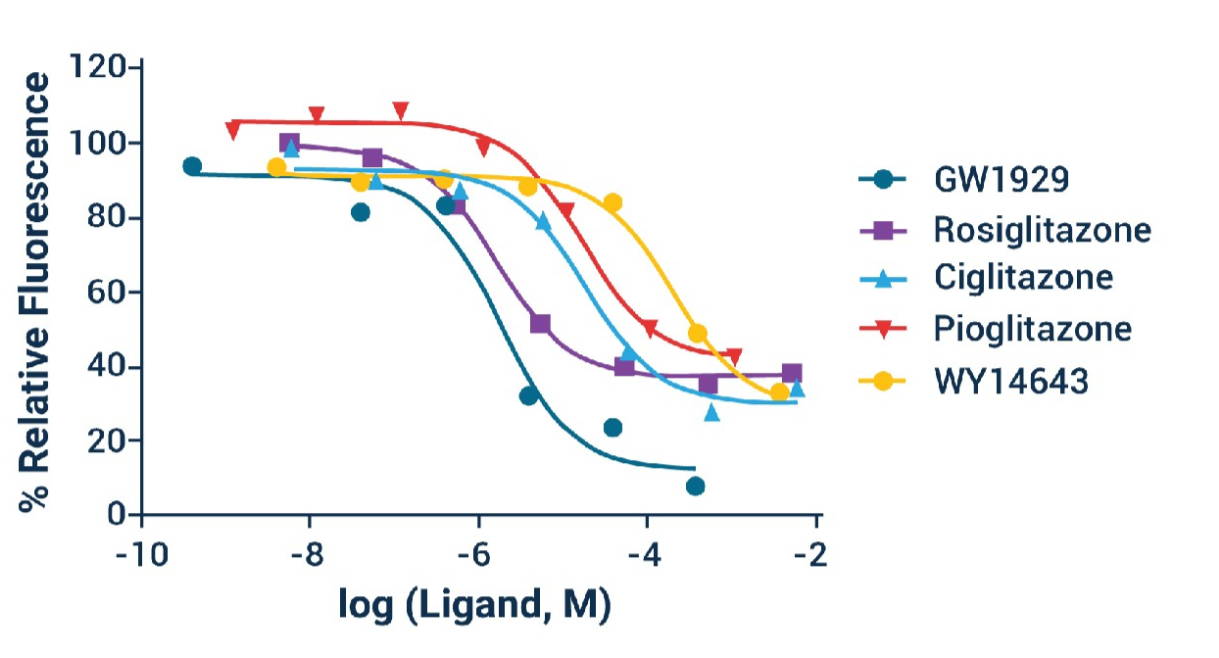 Figure: (a) variety of PPARγ-specific ligands (GW 1929, Rosiglitazone, Ciglitazone and Pioglitazone) and a PPARα-specific ligand (WY 14643) were tested using PPARγ Ligand Screening Assay Kit. Assays were performed following the kit protocol.
Key Information
Description

Fluorescence (Ex/Em 375/460-470 nm)

Rapid, high-throughput screening of drugs and novel ligands.
Development of structure-activity relationship (SAR) models to predict PPARligand interaction liability of novel compounds.

Simple, highly sensitive, high-throughput compatible
Rapid screening of PPARligands Kit includes the PPARligand control and a stable, recombinant human PPAR/td>

PPARAssay Buffer
PPARAssay Probe
PPAR(Human recombinant, 500 µl)
PPARLigand Control (100 mM in DMSO)
384-well Low Volume Black Plate

For Research Use Only! Not For Use in Humans.
View All
Close