Description
Rat Renin Activity Fluorometric Assay Kit
Renin (EC 3.4.23.15), also known as angiotensinogenase, is an enzyme that participates in the renin-angiotensin system (RAS) which mediates extracellular volume (i.e. blood plasma, lymph and interstitial fluid), and arterial vasoconstriction. In addition to the systemic RAS, locally expressed RAS has been found in the kidney, heart and nervous system. An overactive renin-angiotensin system leads to vasoconstriction and retention of sodium and water, causing hypertension. Renin inhibitors are widely used for the treatment of hypertension. In Assay Genie's Rat Renin Activity Assay Kit, Rat Renin and other proteases hydrolyze a FRET substrate resulting in fluorescence at Ex/Em = 328/552 nm. In the presence of a Rat Renin-Specific Inhibitor, hydrolysis of the substrate is due to only the activity of other proteases. The difference between the total activity and the activity in the presence of Rat Renin-Specific Inhibitor gives the Rat Renin Activity in the sample. This rapid, simple & sensitive kit can detect renin activity as low as 0.12 mU recombinant rat renin.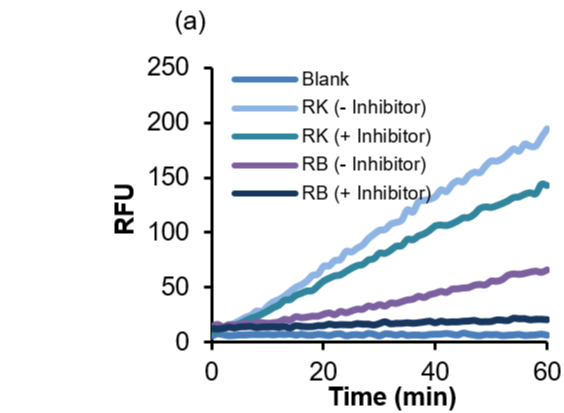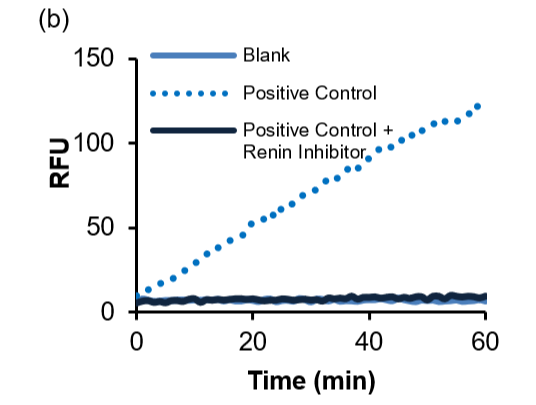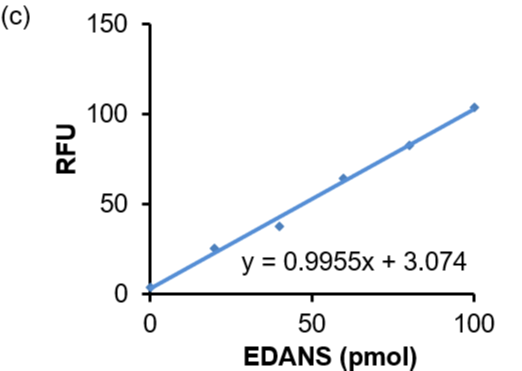 Figure: (a) EDANS Standard Curve, (b) Renin Activity in Positive Control & (c) Renin Activity in Rat Kidney (RK) (28 μg) lysate and Rat Brain (RB) (9.2 μg) lysate with (+) and without (-) Inhibitor. Assays were performed following this kit protocol.
Key Information
Description

Fluorescence (Ex/Em = 328/552 nm)

Detects Rat Renin Activity

Rapid, simple & convenient
The assay can detect rat renin activity as low as 0.12 mU recombinant rat renin.

Renin Assay Buffer
Homogenization Buffer
Rat Renin Substrate
Rat Renin (Lyophilized)
Rat Renin Inhibitor (Lyophilized)
EDANS Standard (100 µM)

For Research Use Only! Not For Use in Humans.
View All
Close