Description
Rat Renin Inhibitor Screening Kit (Fluorometric)
Renin (EC 3.4.23.15), also known as an angiotensinogenase, is an enzyme that participates in the renin-angiotensin system (RAS) which mediates extracellular volume (i.e. blood plasma, lymph and interstitial fluid), and arterial vasoconstriction. An over-active renin-angiotensin system leads to vasoconstriction and retention of sodium and water, causing hypertension. Renin inhibitors are widely used for the treatment of hypertension. Assay Genie's Rat Renin inhibitor screening Kit uses a synthetic peptide substrate with a fluorophore (EDANS) at one end and a quencher (DABCYL) at the other end. Renin catalyzes the cleavage of FRET substrate resulting in a product that is detected fluorometrically at Ex/Em = 328/552 nm. In the presence of a Rat Renin inhibitor, the rate of hydrolysis of the substrate is decreased or inhibited. The kit provides a rapid, simple, sensitive, and reliable test suitable for high-throughput screening of rat renin inhibitors. It is also adaptable to a 384-well format.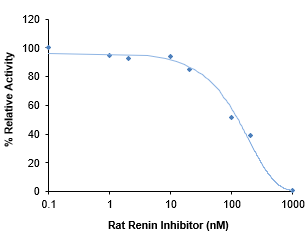 Figure: Inhibition of Rat Renin Enzyme Activity with Rat Renin Inhibitor using kit protocol.
Key Informtion
Description

Fluorescence (Ex/Em = 328/552 nm)

Screening potential inhibitors of rat renin
Characterize/study rat renin inhibitors

Rapid & HTS
Reliable test for screening/studying/characterizing potential inhibitors of rat renin
Includes Inhibitor Control

Renin Assay Buffer
Rat Renin Substrate
Rat Renin Enzyme (lyophilized)
Rat Renin Inhibitor (lyophilized)

For Research Use Only! Not For Use in Humans.
View All
Close