Description
Renin Inhibitor Screening Kit (Fluorometric)
Renin (EC 3.4.23.15), also known as an angiotensinogenase, is an enzyme that participates in the renin-angiotensin system (RAS) which mediates extracellular volume (i.e. blood plasma, lymph and interstitial fluid), and arterial vasoconstriction. An over-active renin-angiotensin system leads to vasoconstriction and retention of sodium and water, causing hypertension. Renin inhibitors are widely used for the treatment of hypertension. Assay Genie's Renin inhibitor screening Kit uses a synthetic peptide substrate with a fluorophore (EDANS) at one end and a quencher (DABCYL) at the other end. Renin catalyzes the cleavage of FRET substrate resulting in a product that is detected fluorometrically at Ex/Em = 328/552 nm. In the presence of a Renin inhibitor, the rate of hydrolysis of the substrate is decreased. The kit provides a rapid, simple, sensitive, and reliable test suitable for high throughput screening of Renin inhibitors also adaptable to a 384 well format.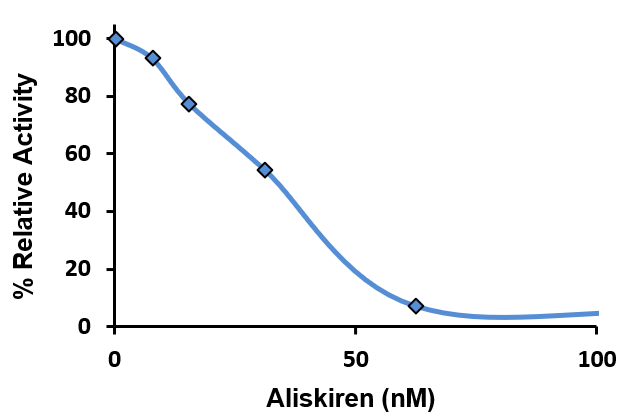 Figure: Inhibition of Renin Enzyme Activity with Inhibitor Aliskiren using kit protocol.
Key Information
Description

Screening potential inhibitors of renin
Characterize/study renin inhibitors

Rapid & simple
Reliable test for screening potential inhibitors of renin
Includes Inhibitor Control [Aliskiren]

Renin Assay Buffer
Renin Substrate
Active Human Renin (lyophilized) (15 µg)
Inhibitor Control [Aliskiren] (200 µM)

For Research Use Only! Not For Use in Humans.
View All
Close