Description
Sphingomyelin Quantification Colorimetric Assay Kit
Sphingomyelin is an important structural lipid component of cell membranes and lipoproteins. Sphingomyelin has been implicated in the pathogenesis of several diseases; therefore a sensitive and reliable technique for its quantification is of considerable importance. Assay Genie's Sphingomyelin Quantification Assay Kit provides a simple and sensitive method for quantifying sphingomyelin using colorimetry. In the assay, sphingomyelin is hydrolyzed into ceramide and phosphorylcholine by sphingomyelinase. Alkaline phosphatase (ALP) dephosphorylates phosphorylcholine to choline, which then reacts with Sphingomyelin Enzyme Mix to produce an intermediate. The intermediate reacts with a highly specific probe to generate color (OD 570 nm). The kit can detect sphingomyelin in various biological samples as low as 1 µM.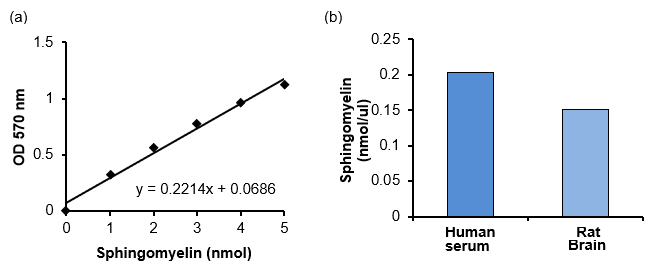 Figure: (a) Sphingomyelin Standard Curve (b). Quantification of Sphingomyelin levels in human serum (1 µl) and rat brain (1 µg). Assays were performed following the kit protocol.
Key Information
Description

Sphingomyelin quantification in various biological samples
Analysis of cell signaling pathway

Simple, rapid & convenient
The assay can detect sphingomylein less than 1 µM in a variety of samples

SM Assay Buffer
GenieRed Probe
Sphingomyelinase (Lyophilized)
ALP Enzyme (Lyophilized)
SM Enzyme Mix (Lyophilized)
SM Standard (5 mM)

For Research Use Only! Not For Use in Humans.
View All
Close