Description
Starch Colorimetric/Fluorometric Assay Kit
Starch is a complex carbohydrate consisting of a large number of glucose units. All plants contain starch, present as amylose, (linear 1,4 linked polymer) and amylopectin, (highly 1,6 branched 1,4 polymer). Starch generally contains 0-25% amylose and 75-100% amylopectin. The Starch Assay Kit provides an easy, accurate assay to measure starch levels in a variety of samples. In the assay, starch is hydrolyzed to glucose which is oxidized to generate color (570 nm) and fluorescence (Ex/Em = 535/587 nm). The assay can detect starch at 0.0004 to 2 mg/ml.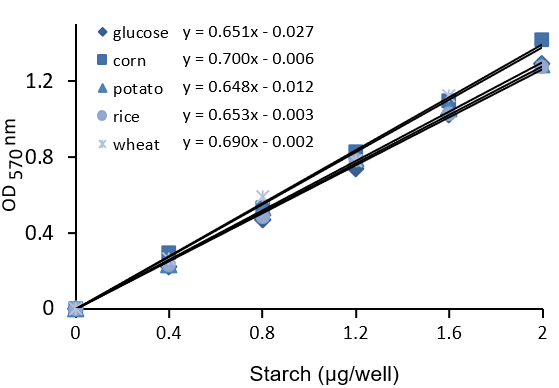 Figure 1: Starch Standard Curve: Different types of pure starch were extracted with 10N KOH/H3PO4 as described following the kit protocol.
Key Information
Description

Absorbance (570 nm) or Fluorescence (Ex/Em 535/587 nm)

The assay can detect starch at 0.0004 to 2 mg/ml.

Simple procedure; takes ~ 40 minutes
Fast and convenient
Kit contains all necessary reagents for accurate measurement of Starch levels

Hydrolysis Buffer
Development Buffer
GenieRed Probe DMSO (anhydrous)
Hydrolysis Enzyme Mix
Development Enzyme Mix
Starch Standard (2.0 mg/ml)

For Research Use Only! Not For Use in Humans.
View All
Close