Description
Zinc Assay Kit (Fluorometric)
Zinc (Zn, Atomic Number: 30), is a metal with characteristics similar to Magnesium due to its size and its oxidation state of +2. This element is an essential mineral of great biological significance since many enzymes require zinc as an essential cofactor. Examples of biological roles of Zinc include signal transduction, gene expression, regulation of apoptosis, synaptic plasticity and prostate gland function. Assay Genie's Zinc Fluorometric Assay kit provides an easy and quantitative method to measure the metal ion Zinc in various biological samples. The assay is based on the ability of our proprietary probe that binds with high specificity to Zinc and becomes fluorescent. The fluorescent intensity is directly proportional to the amount of zinc, which can be quantified by measurement at Ex/Em= 435/535 nm in a microplate reader. This assay kit provides a just add-and-read, non-radioactive, and high-throughput adaptable for Zinc detection. The assay is rapid (less than 10 min) and sensitive (Limit of Detection: < 0.1 µM).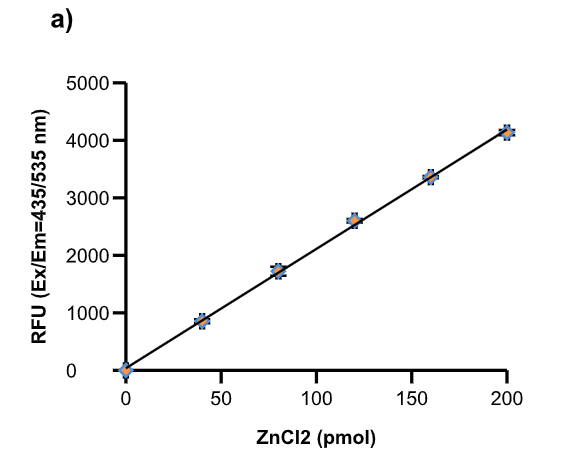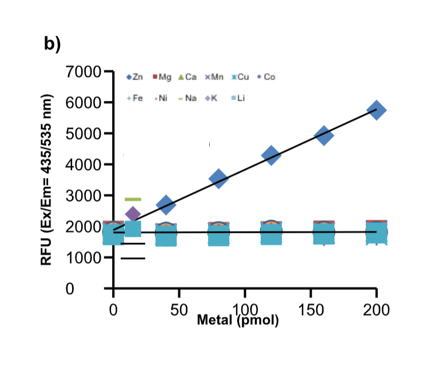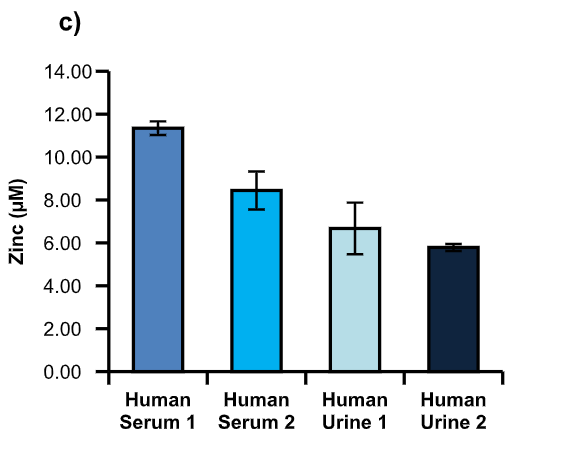 Figure: (a) Zinc Standard Curve. (b) Assay Specificity: Zinc and other mono, di and trivalent metals ions were tested to evaluate possible interferences. Interferences were found to be less than 1% when data was normalized using Zinc as 100% activity. (c) Measurement of Zinc in two Human Normal Pooled Serum samples (20 µl samples at 1:40 dilution) and two Human Normal Pooled Urine Samples (20 µl samples at 1:40 dilution). Assays were performed according to the kit protocol.
Key Information
Description

Fluorescence (Ex/Em= 435/535 nm)

The kit can detect 20 ng/ml (~0.1 µM).

Simple procedure; takes ~ 15 minutes
Fast and convenient
The assay is sensitive, stable and high-throughput adaptable
Applications- The kit can detect 20 ng/ml (~0.1 µM)

Zinc Assay Buffer
Zinc Probe (in DMSO)
Zinc Standard (50 mM)

For Research Use Only! Not For Use in Humans.
View All
Close