Description
Cathepsin H Inhibitor Screening Kit (Fluorometric)
Cathepsin H (CTSH, EC 3.4.22.16), a lysosomal cysteine protease, is important in the overall degradation of lysosomal proteins. It is composed of a dimer of disulfide-linked heavy and light chains, both produced from a single protein precursor. The encoded protein, which belongs to the peptidase C1 protein family, can act both as an aminopeptidase and as an endopeptidase. Increased expression of this gene has been correlated with malignant progression of prostate tumors. Assay Genie's Cathepsin H Inhibitor Screening Kit utilizes the ability of an active Cathepsin H to cleave a synthetic AFC-based peptide substrate to release free AFC, which can be easily quantified using a fluorometer or fluorescence microplate reader. In the presence of a Cathepsin H-specific inhibitor, the cleavage of this substrate is reduced/abolished resulting in decrease or total loss of the AFC fluorescence. This simple and high-throughput adaptable assay kit can be used to screen/study/characterize potential inhibitors of Cathepsin H.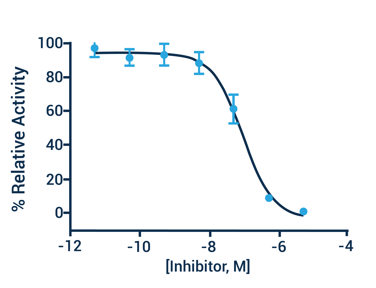 Figure: Inhibition of Cathepsin H activity by CTSH Inhibitor. Assay was performed following the kit protocol.
Key Information
Description

Fluorescence (Ex/Em 400/505 nm)

Screen/study/characterize potential inhibitors of Cathepsin H

Convenient & Rapid
High-throughput adaptable assay to screen/study/characterize the potential inhibitors of Cathepsin H
Cathepsin H inhibitor is included in the kit

CTSH Assay Buffer
CTSH Reagent
Human Cathepsin H
CTSH Substrate
CTSH Inhibitor (1 mM)

For Research Use Only! Not For Use in Humans.
View All
Close