Arrays
Detect 7-274 proteins in 10 species!
Perfect for biomarker discovery and validation studies!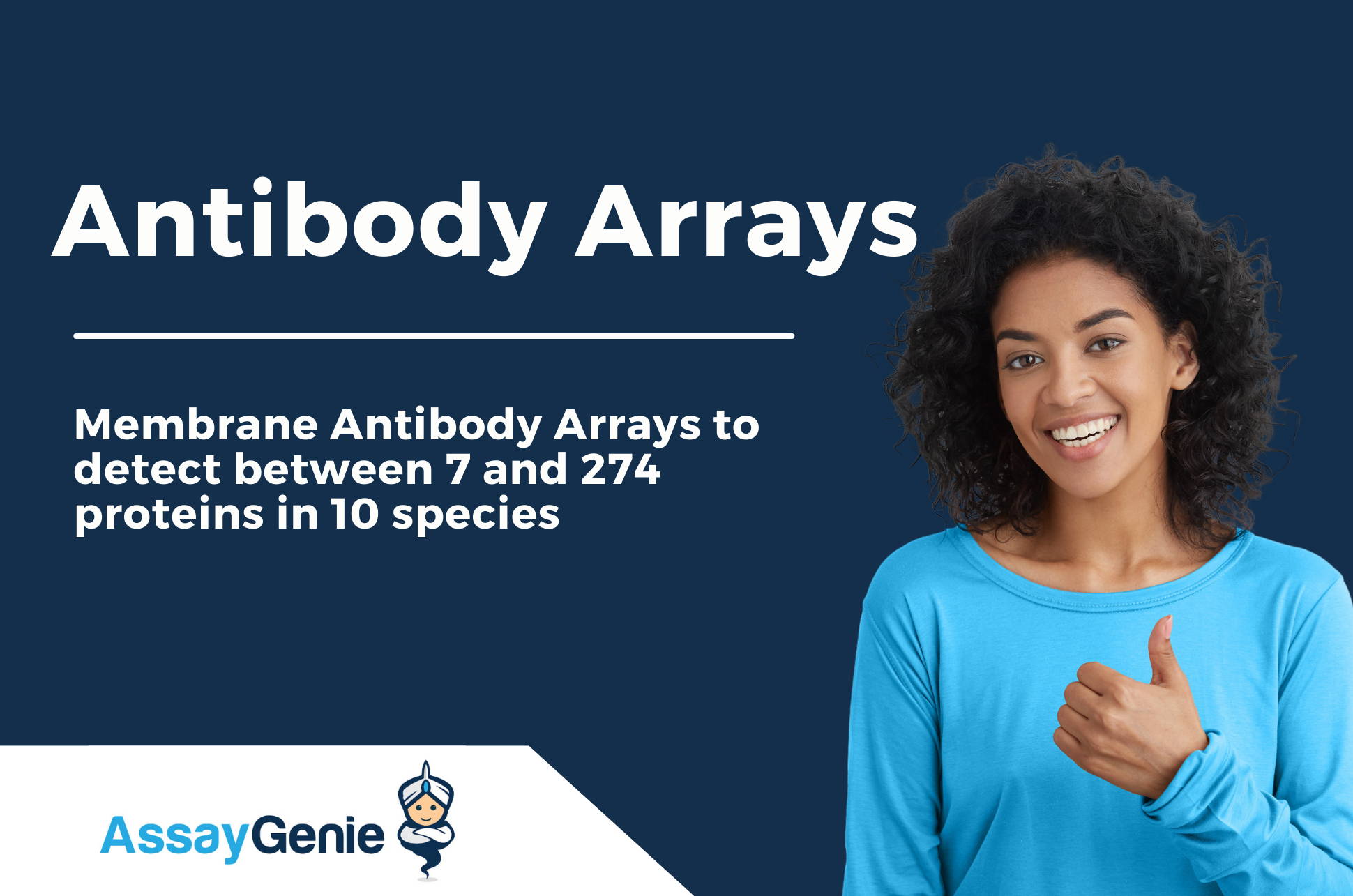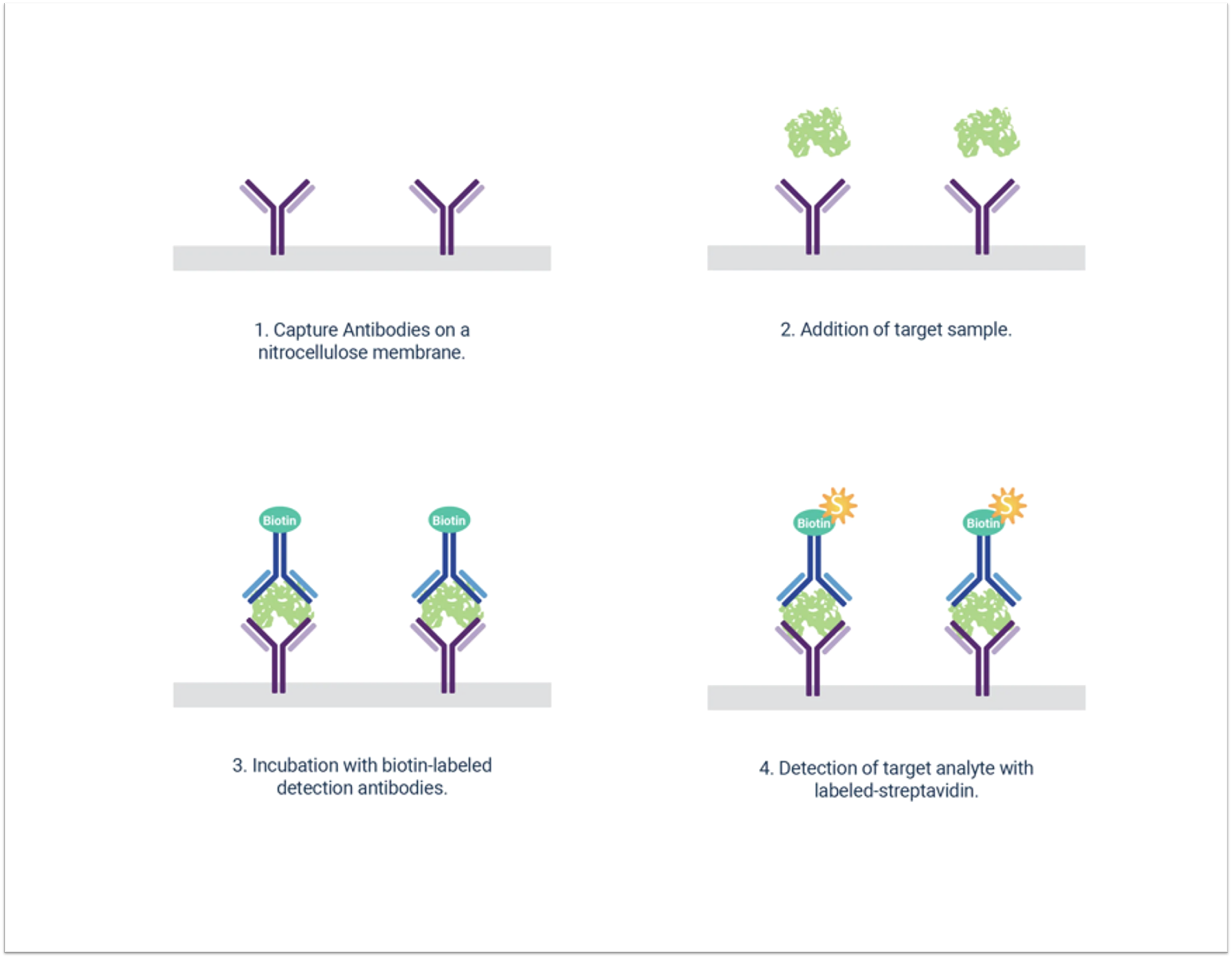 Antibody array workflow. Click to enlarge!
Discovery

|

Detect between 7-274 targets per sample in over 10 different species.


Sensitive | Detect up to 4 orders of magnitude and as little as 1pg/ml for some proteins.


Reproducible | Inter-array Coefficient of Variation (CV) is as low as 5%.
Easy-to-use | Membranes with pre-bound antibody spots giving multiplex results in 24 hours using Western blotting equipment!


Validation | Validate your array hits using our PharmaGenie ELISA designed with the same antibody pairs as the membrane arrays.


Compatible Antibody Arrays are compatible with any chemiluminescent imaging system.
To see how Antibody Arrays could support your research get in touch for a no obligation consultation!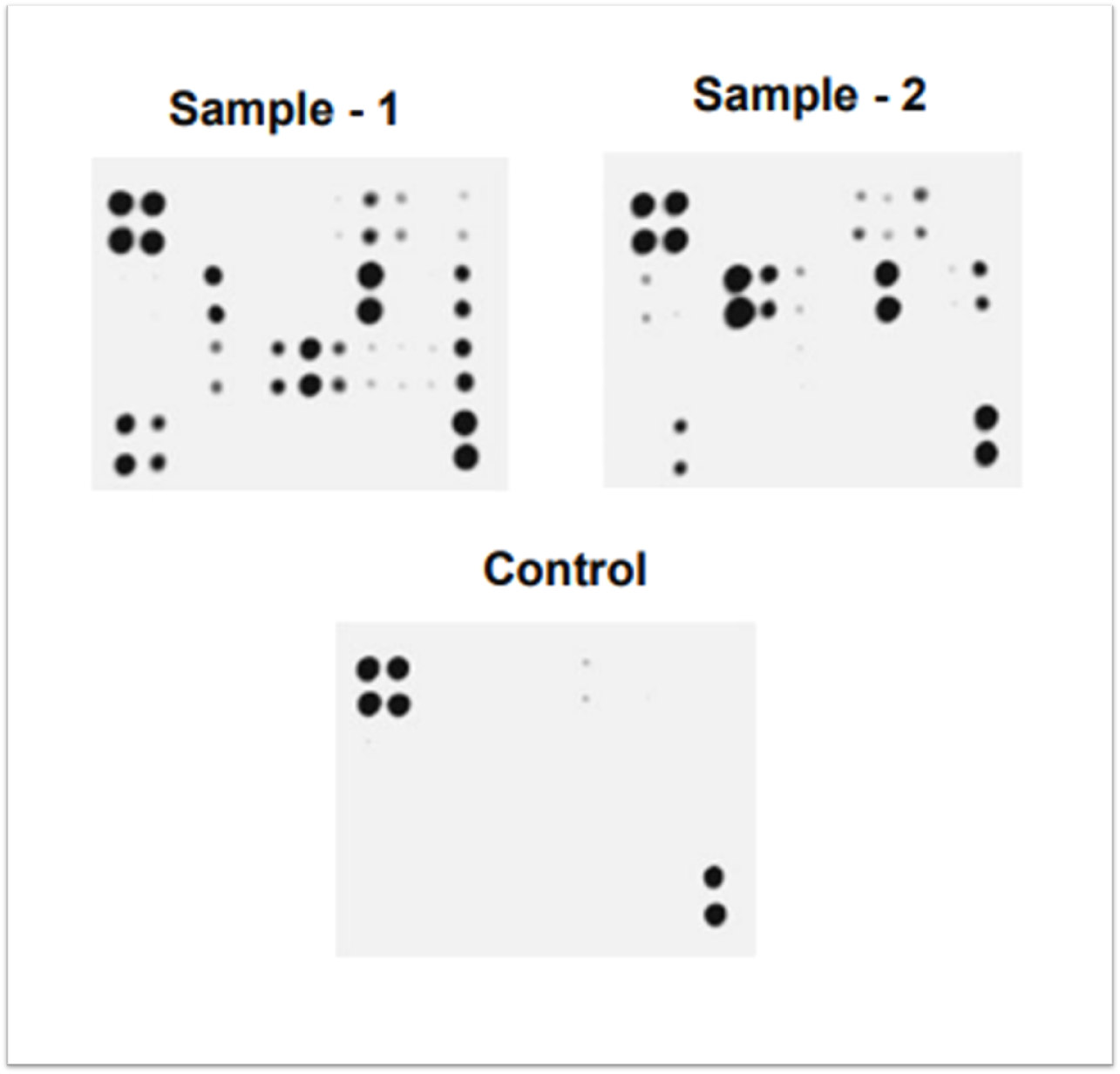 Typical results obtained with antibody arrays
Antibody Arrays by Research Area

Antibody Arrays by Species

Frequently Asked Questions

1. What are the key differences between membrane-based and glass slide-based arrays?
There are many differences between membrane-based arrays & glass-slide arrays such as the type of detection which is being used. The membrane-based arrays are compatible with any chemiluminescent imaging systems, whereby it can be detected with normal western blot imaging systems. In comparison, the glass-slide arrays utilize fluorescence and therefore, a compatible laser scanner is required. As well as this, the glass-slide arrays require a small sample size (70-100ul), whereas membrane-based arrays need 1ml following their dilution step. The cost of glass-slide based arrays are cheaper than membrane-base arrays in many cases.
2. What are the negative and positive controls for Antibody Arrays?
Positive control spots are a controlled amount of biotinylated IgG which is printed onto the array. Positive controls are used for normalization, the monitoring of detection steps and to orientate the arrays.
Negative control spots are buffer printed (no antibodies) and therefore, they are not supposed to give signals. The negative controls are used for determining the level of non-specific binding of different samples.
On the Antibody Array, the section labelled "Blank" is used to measure the background response and there is nothing printed in this area of the array.
3. What equipment is needed for processing the samples while using Antibody Arrays?
The data from Assay Genie Membrane Antibody Arrays can be identified using any chemiluminescence imaging system such as a gel documentation system, CCD camera and an X-ray film developer. As well as this, imaging systems such as Li-Cor Odyssey and Typhoon systems can also work with Antibody Arrays.
4. Can the Antibody Array membrane be reused?
No, Antibody Array membranes cannot be used more than once.
5. Are the Antibody Arrays quantitative or semi-quantitative?
The Antibody Arrays are semi-quantitative. Semi-quantitative refers to the relative fold-change of an analyte in two or more samples which are being compared by analyzing the spot intensity of the array membrane. Quantitative is the accurate determination of the concentration of an analyte in a sample.
6. What are the different types of samples which can be used with antibody arrays?
The Antibody Arrays are compatible with numerous different types of samples such as cell/tissue lysates, cell culture media and clarified body fluids such as serum, plasma, urine, saliva, cerebrospinal fluid, tears and more. In general, any cell-free extract which has soluble and non-denatured proteins will more than likely work with Antibody Arrays.
7. What is the number of samples which can be analyzed when an Antibody Array kit is purchased?
Assay Genie has 3 options for purchasing Antibody Array kits; 2 arrays (2 samples can be used), 4 arrays (4 samples can be used) and 8 arrays (8 samples can be used). Overall, one single sample can be used per array and a control should be used for each experiment.
8. How do you normalize array data?
Normalization is when data is compared between arrays through accounting for the differences between the signal intensities of positive controls spots on each array. To normalize array data, one array is defined as "Reference Array" to which the other arrays are normalized to. The choice of the Reference Array is arbitrary.
*The Assay Genie Analysis Software Tool designates Array 1/Sample 1 as the Reference Array.
Use the algorithm below to calculate and determine the signal fold expression between like analytes.
X(nY) = X(Y) * P1/P(Y)
Where:
P1= The mean signal density of Positive Control spots on reference array
P(Y)= The mean signal density of Positive Control spots on Array "Y"
X(Y)= The signal density for a specific spot on Array for sample "Y"
X(nY)= The normalized value for spot "X" on Array for sample "Y"
9. How do I extract data from the arrays?
Most scientists want to compare numerical values for signal intensities using 2-D densitometry. Any densitometry software can be used to obtain spot signal densities from scanned images. In particular, there is an ImageJ software program available for free from the NIH website which can be used. For more information on data extraction please refer to the Antibody Array technical manual.
10. How do Antibody Arrays work?
Capture antibodies are spotted on the nitrocellulose membrane in duplicates.

The membranes are incubated in one single lysate.

The target sample is added and the capture antibody captures target analytes.

Detection occurs through the use of biotinylated conjugated detection antibodies.

The membranes are incubated in a chemiluminescence reagent and the quantity of antibody-target analyte is proportional to the light signal which is produced.

The Antibody Array data is visualized using film or digital cameras.
Problem
Causes
Solution

No Signals
(not even positive
control spots)

Chemiluminescent imager is not working properly

Too Short Exposure

Degradation of components due to improper storage

Improper preparation or dilution of the HRP-Streptavidin

Waiting too long before exposing

Contact imager manufacturerExpose the membranes longer

Store entire kit at < -20°C. Do not use kit after expiration date. See storage guidelines.

Centrifuge vial briefly before use, mix well and do not dilute more than 1000-fold

The entire detection process should be completed in 10-15 minutes

Signals from Positive
Control Spots visible,
but no other spots
visible

Low sample protein levels

Skipped Sample Incubation Step

Incubations Too Short

Decrease sample dilution, concentrate samples, or load more protein initially

Samples must be loaded after the blocking step

Ensure the incubations are performed for the appropriate time or try the optional overnight incubation(s)

Uneven Signals
and/or
Background

Bubbles present on or below membrane

Insufficient sample or reagent volume

Insufficient mixing of reagents

Rocking/Rotating on an uneven




surface while incubating

Don't rock/rotate the tray too vigorously or pipette the sample or reagent with excessive force

Load enough sample and reagent to completely cover the membrane

Gently mix all reagents before loading onto the membrane, especially the HRP-Streptavidin and Biotin Antibody Cocktail

Rock/rotate on a flat surface or the sample or reagent can "pool" to one side

High Background
Signals
or all Spots Visible

Too much HRP-Streptavidin or




Biotinylated Antibody Cocktail

Prepare these signal enhancing




components precisely as




instructed

Too High of Sample Protein Concentration

Exposed Too Long

Insufficient Washing

Non-specific binding

Prepare these signal enhancing components precisely as instructed

Do not let the membranes dry out during the experiment. Cover the incubation tray with the lid to minimize evaporation

Increase dilution of the sample or load less protein

Decrease exposure time

Ensure all the wash steps are carried out and the wash buffer is removed completely after each wash step

Ensure the blocking buffer is stored and used properly