Therapeutic Antibody & Biosimilar ELISA Kits
Therapeutic Antibody & Biosimilar ELISA Kits
ELISA Kits for Therapeutic mAbs, ADAs & Biosimilars
Quantitative and Qualitative Free Drug and ADA ELISA for Biologics & Biosimilars
Less Volume |

10μL

of sample per well



Precise Technology

| Inter and intra assay CV in accordance with FDA & EMEA requirements


High Quality | Manufactured in Europe under ISO 13485 quality systems



Validated

| Validation, verification and lot release performed according to best-in-class scientific guidelines
Quantitative

| Measure the worlds leading therapeutic antibodies & biosimilars


Screening | Qualitative, quantitative & free/total kits enabling full screening of deleterious Anti-Drug Antibodies (ADAs)



Fast

| Results in as little as 55 minutes for some kits



Convinient

| All kits shipped at room temperature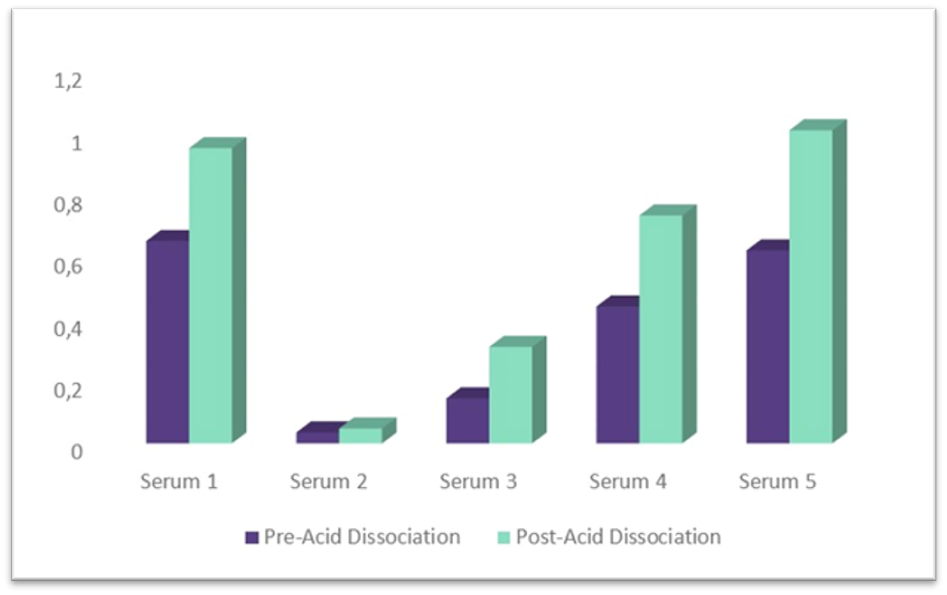 Anti-Adalimumab (Humira®) Free Drug/ADA Dual ELISA Drug Tolerant Assay: This unique kit enables the detection of Free and Total Anti-Drug Antibodies (ADA) to Adalimumab simultaneously on the same plate.
Therapeutic antibody & biosimilar monitoring is routinely implemented in inflammatory diseases to improve outcome and reduce treatment costs. TDM provides a means to test the pharmacokinetic (PK) and pharmacodynamic (PD) properties of a drug, providing more robust results in patient monitoring and experimental designs.
This results in an increased efficacy of response, decreased chance of toxicity and immunogenicity. It also allows for the detection of anti-drug antibodies (ADAs) that can occur with the use of biological therapeutics and hinder drug efficacy.
| | |
| --- | --- |
| Advantages | Description |
| | No expensive equipment or special handling required |
| Highly Sensitive and Specific | No significant cross-reactivity or interface with other proteins present in native human serum or other therapeutic immunoglobulins |
| | Low intra and inter-assay variability |
| | Can lead to the discontinuation of ineffective biologic treatments |
Therapeutic mAb & Biosimilar ELISA Kits by Research Area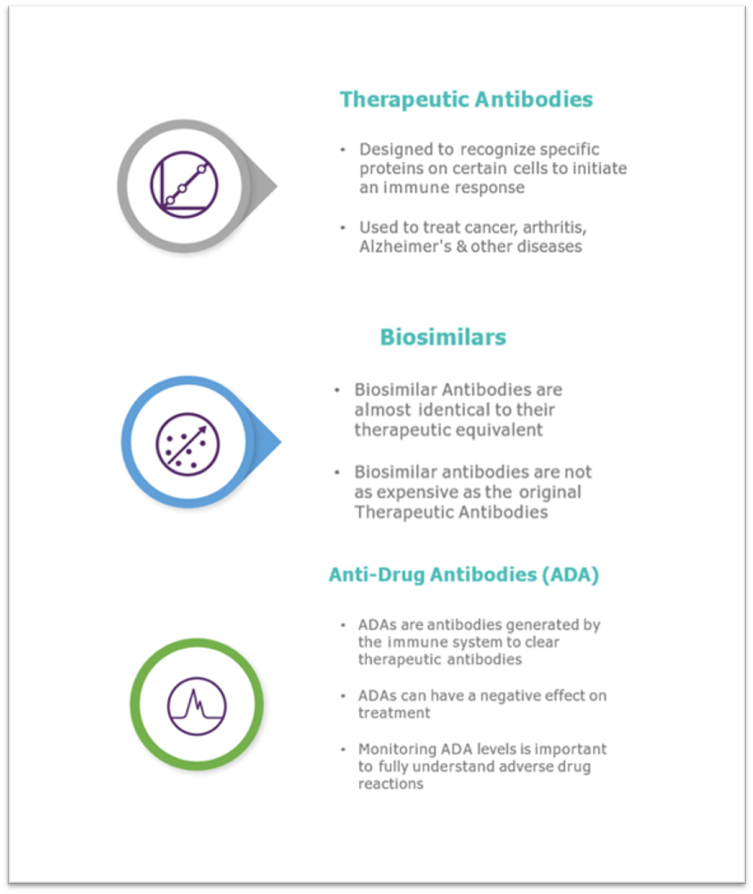 Overview of Therapeutic antibodies, biosimilars and ADA
Therapeutic mAb & Biosimilar ELISA Overview

Therapeutic antibody monitoring is the clinical practice of measuring specific drugs at designated intervals in order to maintain a constant concentration in a patient's bloodstream, thereby optimizing individual dosage regimens.

At Assay Genie, we have developed a range of ELISA kits for:
Therapeutic Antibodies


Anti-Drug Antibodies (ADAs)


Biosimilars

These ELISA Kits allow clinicians to adjust a therapeutic antibody dose according to the individual pharmacokinetic characteristics of each patient. The optimal therapeutic concentration can therefore be achieved more rapidly while minimizing drug toxicity. Additionally, these ELISA Kits can help to identify problems with medication compliance among non-compliant patient cases.
Anti-Adalimumab (Humira®) Free Drug/ADA Dual ELISA Drug Tolerant Assay: The immune complex is composed of Adalimumab bound to an Anti-Adalimumab human monoclonal antibody at an equimolar ratio. This drug tolerant assay uses acid dissociation (Green Bar) to measure the levels of bound ADA that can otherwise not be measured by traditional drug sensitivity assays (Purple bar) as Adalimumab is in a complex with Anti-Adalimumab antibodies thus preventing detection.
Anti-Drug Antibody (ADA) ELISA

Therapeutic antibodies can produce an immune response which leads to the production of anti-drug antibodies (ADA). Most ADA responses to therapeutic monoclonal antibodies (mAbs) are directed against the antigen-binding site of the biologic, and hence are neutralizing. This anti-drug antibody response explains why even fully human antibodies can still be highly immunogenic.
Anti-drug antibodies cause undesired immunogenicity, which can reduce the therapeutic effects of the biologic treatment. ADAs can also result in unwanted adverse effects in some cases. Detecting and monitoring the level of anti-drug antibodies can be of high importance when assessing adverse drug reactions.
A biosimilar is a biologic product with highly similar quality, safety and efficacy characteristics to an already approved biotechnological product (reference product). There are no clinically meaningful differences between the biosimilar and the reference biologic in terms of these product standards. Today, as data exclusivity periods of first wave biologics approach expiration/have expired, several biosimilar products are being developed or have already been approved for human use.
Biosimilars are structurally complex proteins that are typically manufactured using genetically engineered animal, bacterial or plant cell culture systems. As a consequence of this molecular complexity and the proprietary nature of the manufacturing process, which will inevitably result in the use of different host cell lines and expression systems as well as related differences in manufacturing conditions, it is not possible to manufacture exact copies of a reference biologic.
Therapeutic mAb & Biosimilar ELISA Kit Protocol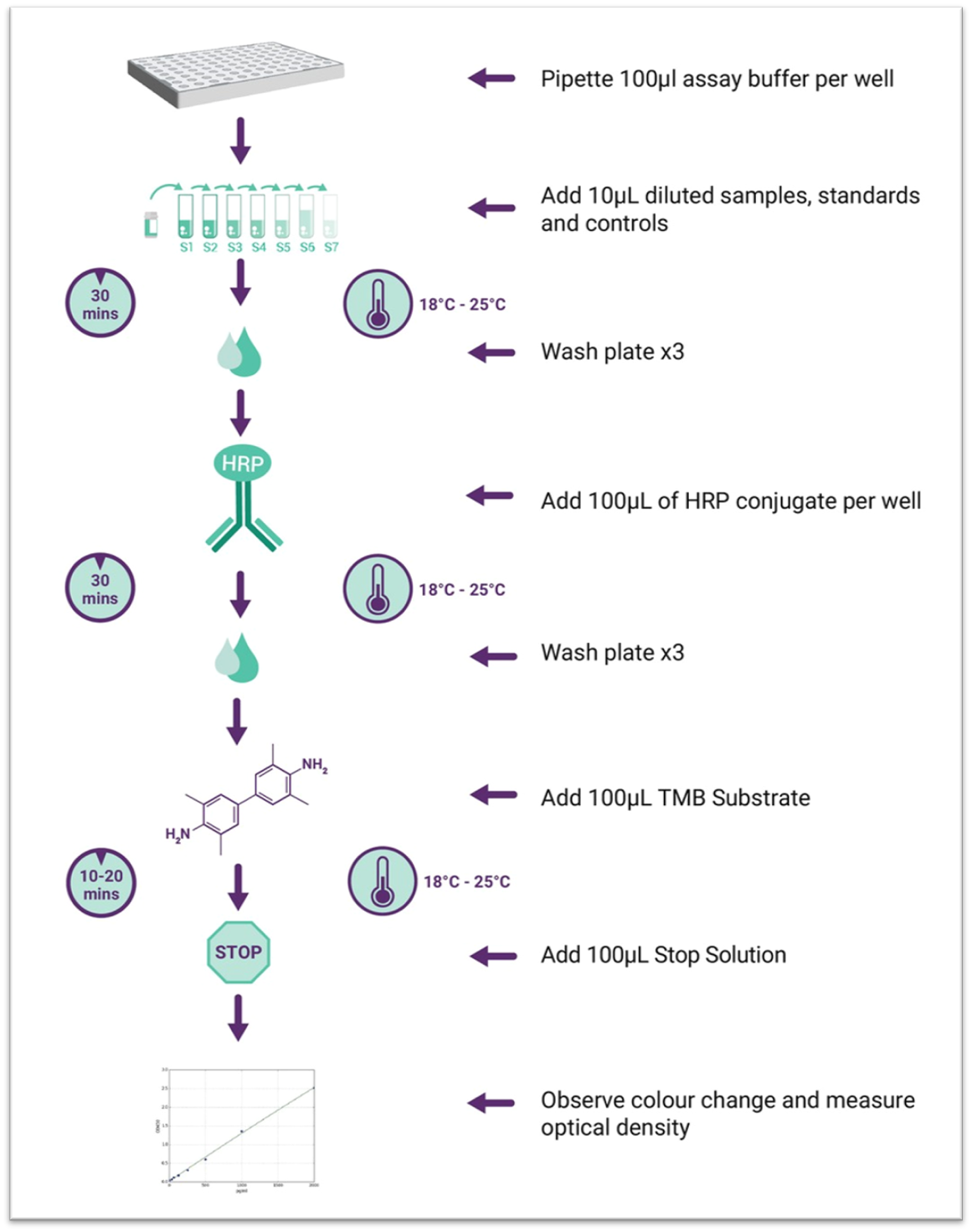 Schematic of Theraputic Drug Monitoring (TDM) ELISA kit protocol
Steps
Protocol

Pipette 100µl of Assay Buffer non-exceptionally into each of the wells to be used.

Pipette 10 µL of each ready-to use Standards, High Level Control, Low Level Control and Diluted Samples into the respective wells of microtiter plate.

Wells
A1: Standard A
B1: Standard B
C1: Standard C
D1: Standard D
E1: Standard E
F1: High Level Control
G1: Low Level Control
H1 and on: Sample (Serum / Plasma)

Cover the plate with adhesive foil. Incubate 30 min at room temperature (18- 25°C).

Remove adhesive foil. Discard incubation solution. Wash plate 3 times each with 300µL of diluted. Wash Buffer. Remove excess solution by tapping the inverted plate on a paper towel.

Pipette 100 µL of ready-to use HRP-Conjugated Probe into each well.

Cover the plate with adhesive foil. Incubate 30 min at room temperature (18- 25°C).

Remove adhesive foil. Discard incubation solution. Wash plate 3 times each with 300 µL of diluted Wash Buffer. Remove excess solution by tapping the inverted plate on a paper towel.

Pipette 100 µL of TMB Substrate Solution into each well.

Incubate 10 min (without adhesive foil) at room temperature (18-25°C) in the dark

Stop the substrate reaction by adding 100 µL of Stop Solution into each well. Briefly mix contents by gently shaking the plate. Colour changes from blue to yellow.

Measure optical density with a photometer at 450/650 nm within 30 min after pipetting of the Stop Solution.
Detection Strategies for Therapeutic mAb & Biosimilar ELISA Kits

The detection step in an ELISA is last step to measure the amount of analyte that you have in your sample. The signal generated during the detection step is proportional to the amount of analyte bound.
Chromogenic is the most popular and most widely used technique for ELISA detection and involves the horse radish peroxidase (HRP) substrate TMB (3, 3', 5, 5'-tetramethylbenzidine) which yields a blue colour when oxidized and turns to yellow following the addition of sulphuric acid. Which allows samples to be read at 450nm on an ELISA plate reader.
Calculating the results using the following equation:
The relative O.D.450 = (the O.D.450 of each well) – (the O.D.450 of Zero well)
The standard curve can be plotted as the relative O.D.450 of each standard solution (Y) vs. the respective concentration of the standard solution (X). The concentration of the samples can be determined from the standard curve. It is recommended to use professional software such as curve expert 1.3.
Therapeutic mAb & Biosimilar ELISA Kit FAQs

1.) How should my ELISA Kit be stored?
The kit is shipped at ambient temperature (10-30°C) and should be stored at 2-8°C for long term storage. Keep away from heat or direct sunlight.
2.) There was a weak/no signal in my ELISA results, what could have caused this?
| | |
| --- | --- |
| Possible Cause | Possible Solution |
| Reagents not at room temperature | All reagents should at room temperature from the start of the assay. Room temperature should be reached following 15–20 minutes on the bench. |
| Incubation time too short | Follow manufacturer guidelines in the technical manuals |
| | Manufactured kits have optimized protocols. Make sure to use recommended wavelength. Ensure plate reader is set accurately for type of substrate being used |
| Target present below detection limits of assay | Decrease dilution factor or concentrate samples |
3.) Poor standard curve in results?
Reagents are poorly mixed, the standard has degraded or pipetting errors.