Tunel 1-Step Assay Kits
Unique 1-Step Non-Toxic Dewaxing Step for Late Stage Apoptosis Detection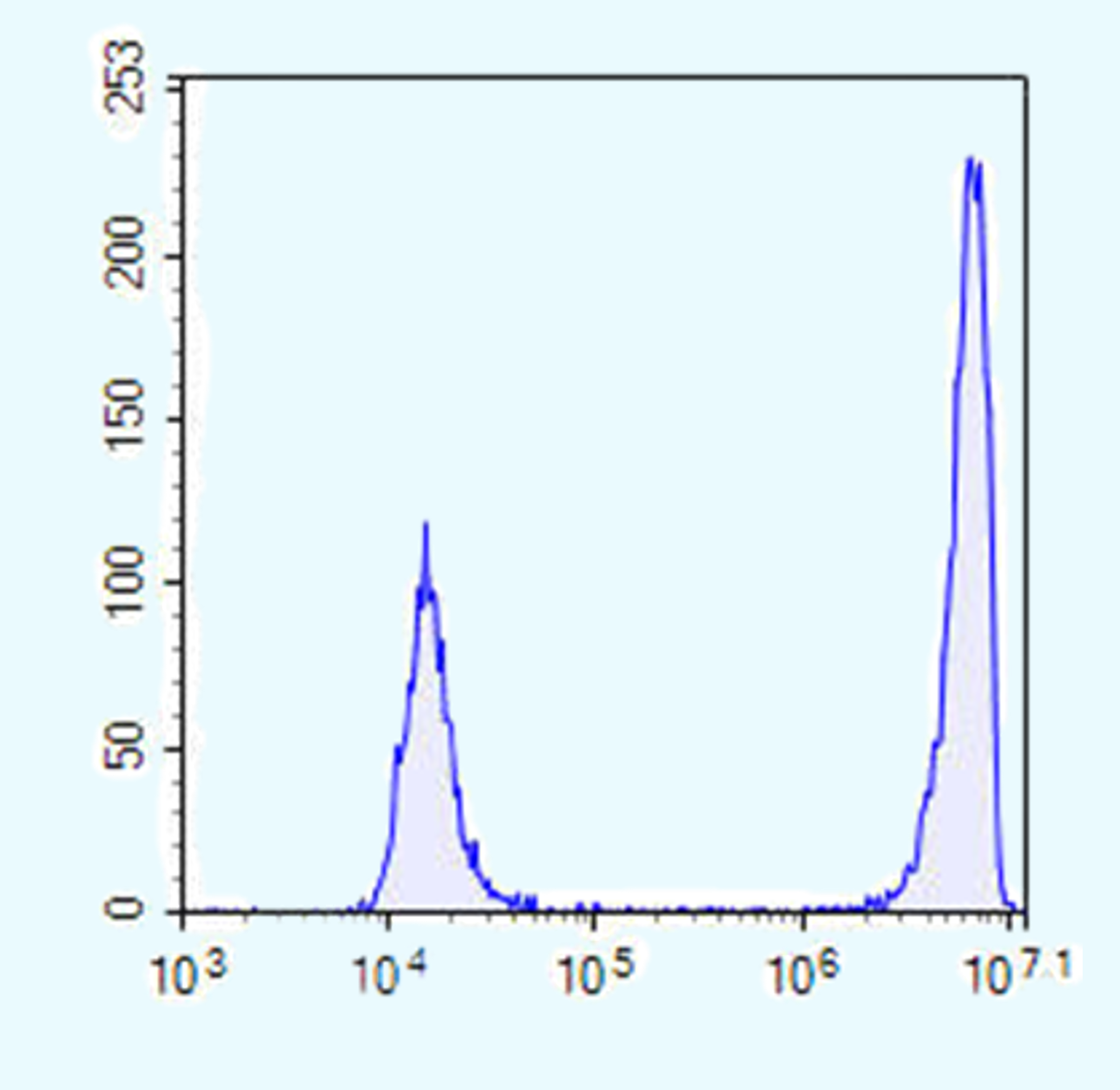 Stained mouse spleen cells & DNase I treated mouse spleen cells
Unique | Single buffer and enzyme mix, no need to prepare two separate reactions


Quick & Simple | One-step protocol and dewaxing process


Safe & Non-Toxic | Contains potassium cacodylate (dimethylarsinic acid)


Choice | FITC, FL488, FL594, FL647, FL555


Useful | Detect apoptosis in situ, fixed cells or tissues



Cost Effective
Have a question? Use our LiveChat (bottom right) or submit a contact form!

Fluorescent dye binds to DNA fragments released from apoptotic cells, making them detectable under microscope


Useful for understanding and identifying genes important for apoptosis



Determine whether tumours are apoptotic or necrotic for cancer research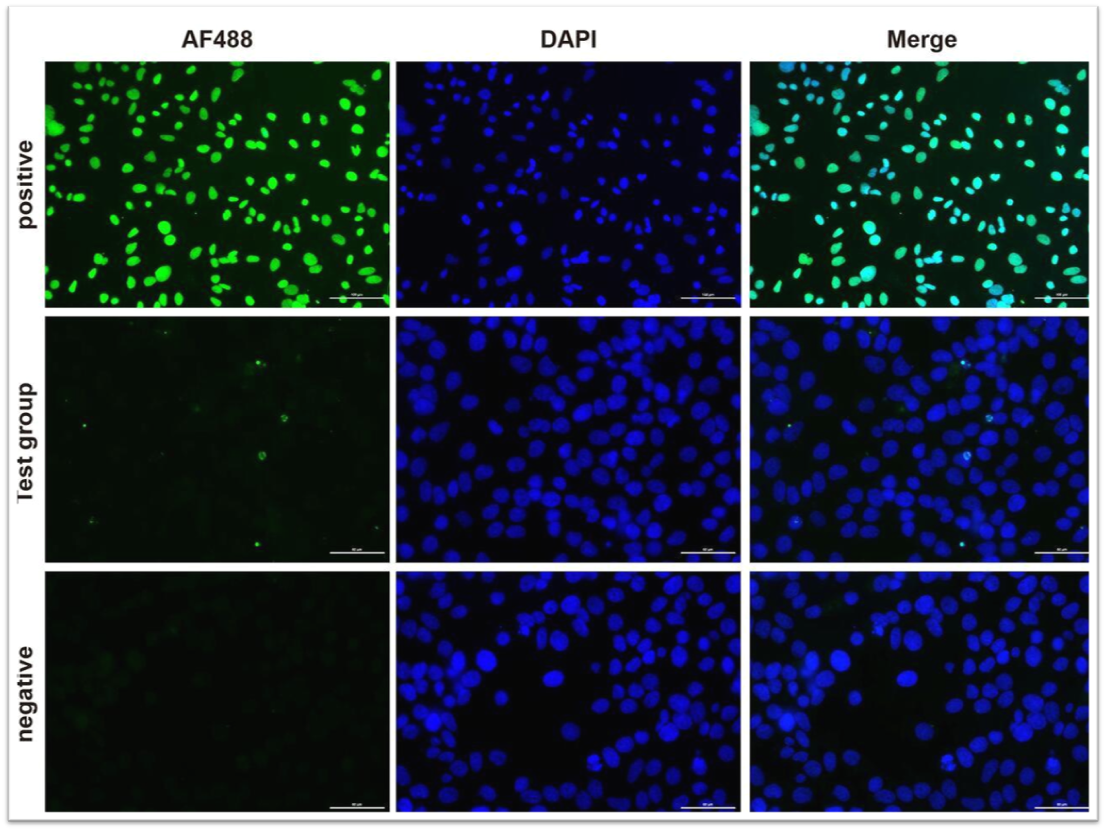 Fluorescence microscope analysis of camptothecin-induced apoptosis of Hela cells.
| | | |
| --- | --- | --- |
| Product Name | Ex/EM (nm) | Detection Method |
| | | |
| | | |
| | | |
| | | |
| | | |
| | | |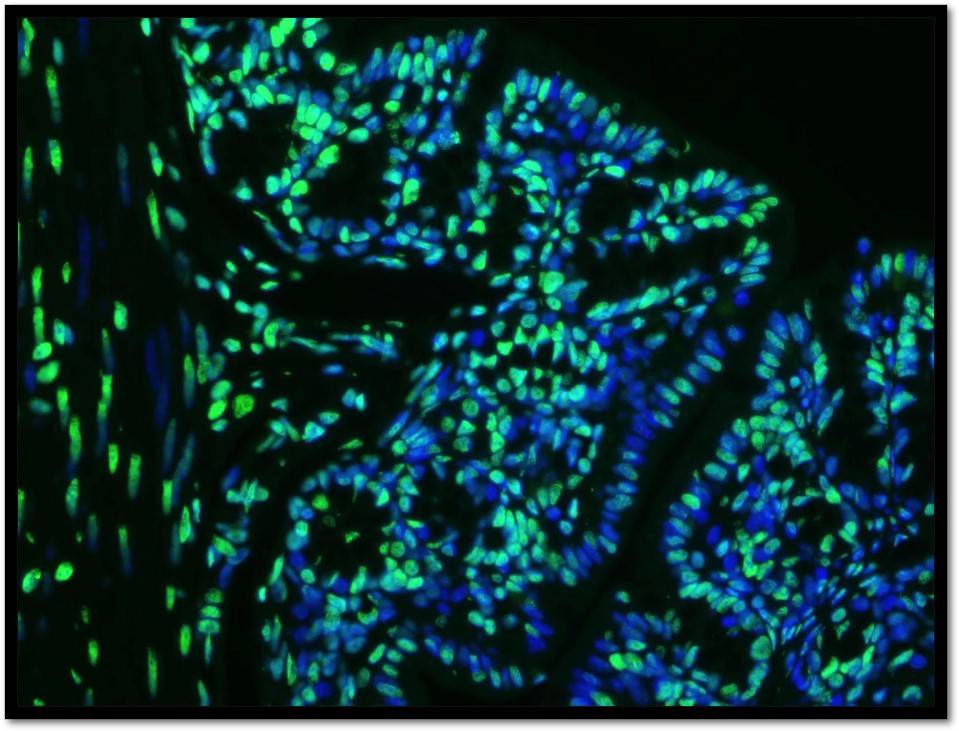 Paraffin embedded mouse colon samples treated with DNAse I. DNA strand breaks showed intense fluorescent staining (green). Cells counterstained with DAPI (blue).
TUNEL Assays are diveded into two categories:

Fluorescent TUNEL for fluorescence microscopy or flow cytometry



HRP-DAB TUNEL for light microscopy
The choice of TUNEL depends on the the equipment available.
Fluorescent TUNEL are simpler to use, have a quicker experiment time and results are easier to observe.
Choosing the Right TUNEL Assay

Choosing the right TUNEL Assay for your experiments is based on the following criteria:
The Fluorescence Microscope Settings

Auto-flourescence of samples
| | | |
| --- | --- | --- |
| Fluorescein | Excitation wavelength (Ex) | Emission wavelength (Em) |
| | | |
| | | |
| | | |
| | | |
| | | |
| | | |
The Fluorescence Microscope Settings

It's important to know the excitation and emission wavelength spectra of the fluorescence microscope.
UV light excites DAPI, which emits blue light. Blue light excites FL488 and FITC, which emit green light. Green light excites FL594 and FL555, which emit red light.
Auto-flourescence of samples:

If samples do not show fluorescence or contain red fluorescence the TUNEL 1-Step (FITC) or the TUNEL 1-Step (FL488) are recommended (*Note: The anti-quenching function of FL488 is superior than that of FITC, so if you need to view the green fluorescence of the sample for a longer period of time, use the FL488 kit).


If samples exhibits green fluorescence use the TUNEL 1-Step (FL594) or TUNEL 1-Step (FL555).


If both red and green fluorescence are observed in samples the TUNEL 1-Step (FL647) is recommended (*Note: FL647 has rather stringent requirements for fluorescence instruments, therefore confocal microscopes would provide more accurate results).
---