Biosimilar Antibodies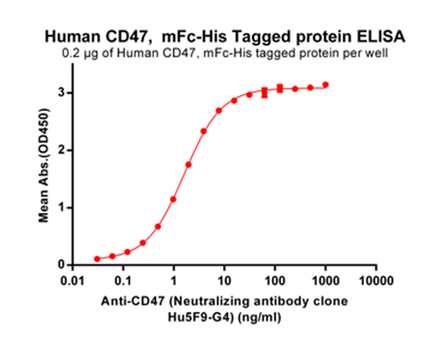 Figure 1: ELISA plate precoated with 2 µg/ml Human CD47. Anti-CD47 (Magrolimab) biosimilar binds to Human CD47 and can be detected in a range of 0.061-1.606 ng/ml using a mFc-His tagged protein
What are Biosimilar Antibodies?

A biosimilar antibody is a copy of a therapeutic antibody, with highly similar quality and efficacy, that has been approved for medical use.

A therapeutic antibody is an antibody that is designed to recognise specific proteins on certain cells to iniate an immune response. Therapeutic antibodies are used to treat cancer, arthritis, Alzheimer's and other diseases.

Research-grade biosimilar antibodies offer a more readily available and cost effective alternative to the original therapeutic antibody and can serve as a reference antibody in the development of new biologics.
Popular Biosimlar Antibodies

Looking for a particular biosimilar? Use our LiveChat to get in touch and one of our specialists will be happy to help!
Premium | Research grade (RUO) biosimilar antibodies
Purified | Purified from cell supernatant by affinity chromatography
Validated | Validated for target binding verification and off target effects by ELISA and flow cytometry to ensure quality and specificity
Specific | Demonstrated to be low or non-immunogenic

Cost

| Cost effective alternative to therapeutic antibodies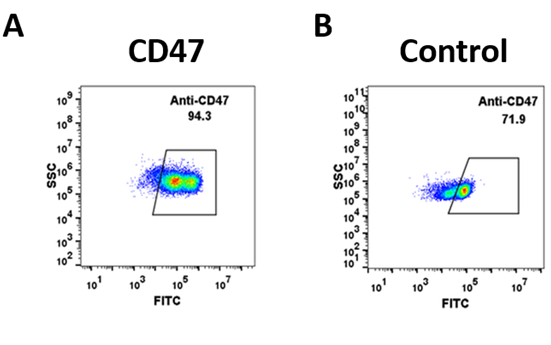 Figure 2: HEK293 cells transfected with (A) human CD47 or (B) control protein. Cells were stained with 1 µg/ml anti-CD47 neutralising antibody (Magrolimab).
| | |
| --- | --- |
| | Ligand binding assays |
| | Biologics development |
| | Reference antibody in pipeline drug development |
| | |
| --- | --- |
| | In vivo Animal studies |
| | Reference antibody in ELISA and flow cytometry |
| | Studying of biochemical pathways |
The Assay Genie biosimilar antibody range are produced using a revolutionary high throughput technology for monoclonal antibody development. Unlike hybridoma based monoclonal antibodies, this new technology can obtain IgG sequences from immunoreactive B cells directly with no need for hybridoma fusion. With no need for a hybridoma fusion, it will soon be possible to raise monoclonal antibodies from a range of animal species.
Over 1000 immunoreactive B cells can be isolated from a single animal. Such high numbers means greater success in obtaining monoclonal antibodies with higher specificity, sensitivity and affinity. Directly obtaining the IgG sequences also means direct editing and optimisation of antibodies is possible for humanization.
If you would like a quote, or have a question, get in touch and one of our specialists will be happy to help!
---