Description
3D Cell Culture Matrix Duo-Matrix Kit
Three dimensional (3D) cell cultures are artificially-created environments in which cells are permitted to grow or interact with their surroundings in a 3D fashion. 3D cell cultures improve the function, differentiation and viability of cells and recapitulate in vivo microenvironment compared to conventional 2D cell cultures. 3D matrices provide a physiologically relevant screening platform, by mimicking the in vivo responses, for many cell types including cancer and stem cells in developmental morphogenesis, pharmacology, drug metabolism and drug toxicity studies. Assay Genie offers 3D cell culture matrices, including Basement Membrane Matrix (animal-based), Alginate Hydrogel (plant-based) and proprietary Assay Genie's Duo-Matrix Mix, to meet the needs and requirements of various research fields. Assay Genie's 3D Culture Matrix Kits provide a standardized, yet user friendly and adaptable to high-throughput strategy for setting up spheroid formations, 3D cell cultures and pharmacological studies.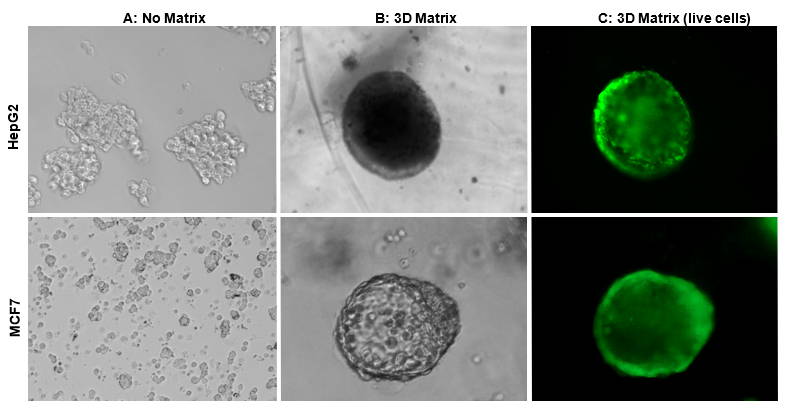 Figure: HepG2 and MCF7 cells in No Matrix (A) and 3D Alginate Hydrogel Matrix (B). Cells were cultured in Alginate Hydrogel Matrix for 21 days, and successfully formed spheroids. Media was changed every 2-3 days as per protocol. The Calcein AM staining (C) indicates that cell viability is not affected while culturing in matrix for a long period of time. Note: Calcein AM is not included in the kit.
Key Information
Description

Spheroid Formation Assays

Reproducible, Qualitative tool for screening, studying, and characterizing compounds in cell culture studies

Duo-Matrix
Cross-linking Solution
Wash Buffer

For Research Use Only! Not For Use in Humans.