Description
Aminopeptidase N (APN/CD13) Activity Assay Kit (Fluorometric)
Aminopeptidase N (APN, EC 3.4.11.2) also known as CD13 or membrane alanyl aminopeptidase is a Zn2+-dependent ectopeptidase that cleaves N-terminal neutral amino acids (preferentially alanine) from proteins and peptides. APN is a promiscuous, multifunction enzyme consisting of a short cytoplasmic domain, a single transmembrane helix and a large extracellular catalytic domain that can be cleaved to generate a soluble version of the enzyme. Aminopeptidase N expression is upregulated in many different human cancers and the enzyme is involved in metastatic tumor cell proliferation, invasion and angiogenesis. Serum levels of soluble APN are elevated in cancer patients compared with healthy controls and there is a strong inverse correlation between serum APN, tumor load and long-term prognosis in pancreatic, breast and colon cancers. Thus, in addition to being a promising pharmacological target for novel anti-neoplastic drugs, serum APN activity has been proposed as a non-invasive biomarker for the diagnosis and surveillance of breast and pancreatic cancers. Assay Genie's Aminopeptidase N Activity Assay Kit enables rapid measurement of APN activity, utilizing a fluorogenic substrate that is converted into a highly fluorescent product (Ex/Em = 384/502 nm). A selective APN inhibitor is provided for verification of specific activity. The assay is simple, high-throughput adaptable and can detect a minimum of 100 APN activity in a variety of biological samples.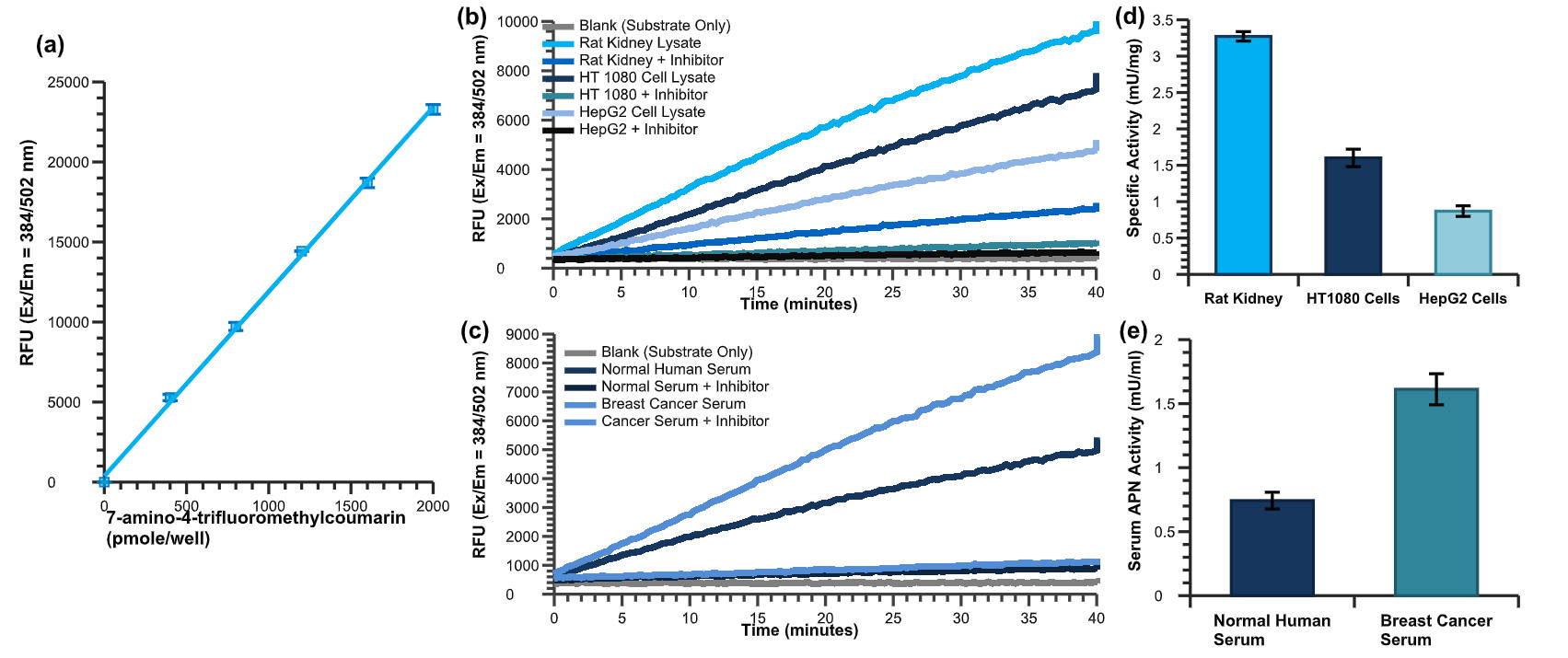 Figure: (a) Standard curve of 7-amino-4-trifluoromethylcoumarin (AFC) fluorescence. One mole of AFC corresponds to the metabolism of one mole of Aminopeptidase N Substrate. (b–c) Kinetics of APN Substrate metabolism in rat kidney lysate (5 µg protein), HT-1080 cell and HepG2 cell lysates (each 10 µg protein), as well as pooled normal human serum and serum from breast cancer patients (each 10 µl undiluted serum) in the presence and absence of the included selective APN inhibitor. (d–e) Quantification of APN activity in tissue/cell lysates and human serum samples (mean ± SEM at least 3 replicates). Assays were performed according to the kit protocol.
Key Information
Description

Detection method - Fluorescence (Ex/Em = 384/502 nm)
Applications- Detection of CD13 activity in mammalian tissues, cell culture and purified enzyme

Fluorometric (Ex/Em = 384/502 nm)

Detection of CD13 activity in mammalian tissues, cell culture and purified enzyme

Simple one-step reaction
Takes only 1-2 hrs
Non-radiometric fluorescent detection
HTP adaptable

Aminopeptidase Assay Buffer
AFC Standard (1 mM)
Aminopeptidase N Inhibitor (t-BPAPP)
Aminopeptidase N Substrate
Aminopeptidase N Positive Control

For Research Use Only! Not For Use in Humans.