Description
Arginase I (ARG1) Inhibitor Screening Kit (Colorimetric)
Arginase (EC 3.5.3.1) is a manganese-containing enzyme which catalyzes the conversion of arginine into urea and ornithine, which is the final reaction in the urea cycle. Arginase I (ARG1) is the liver isoform of arginase. Recent studies showed that ARG1 expression by mature myeloid cells in tumor environment as demonstrated in a 3LL murine lung carcinoma model causes L-Arginine depletion by tumor-associated myeloid cells (TAMC). L-arginine depletion suppresses immune-response against tumor cells due to inhibition to T-cell proliferation. In addition, the depletion of arginine increases the reactive nitrogen species (NOS) and reactive oxygen species (ROS), which, in consequence, induce T-cell apoptosis and supports antigenic cell proliferation. Assay Genie's Arginase I (ARG1) Inhibitor Screening Kit is designed for screening ARG1 inhibitors. Two substituted-2-amino-6-hexanoic acids have been studied as arginase inhibitor and in this kit, Amino-2-Borono-6-Hexanoic Acid (ABH) is provided as a positive control. The ARG1 activity is monitored by the increase in absorbance readings (OD 450 nm), while potential inhibitors will cause a decrease of absorbance. The assay kit is simple, quick and can be used to identify and characterize ARG1 inhibitors in a high-throughput format.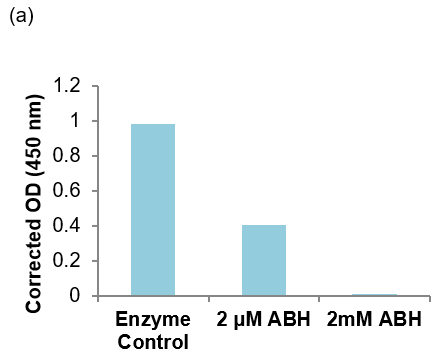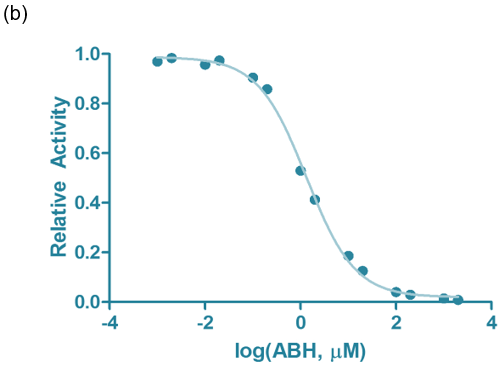 Figures: (a) ARG1 was incubated with different concentrations of ABH for 5 minutes at 37 ºC. Then, substrate was added to the wells and mixtures were incubated for 30 minutes. Absorbance readings were taken 60 minutes after detection probe system was added. (b) Inhibition of ARG1 enzyme activity by Amino-2-Borono-6-Hexanoic Acid (ABH). IC 50 of ABH was determined to be 1.39 ± 0.10 µM. Assay was performed following the kit protocol.
Key Information
Description

Detection method- Absorbance (450 nm)
Applications- Screening for inhibitors of human arginase I (ARG1)
Simple, rapid & convenient

Screening for inhibitors of human arginase I (ARG1)

Sensitive assay for the screening of potential human ARG1 inhibitors

Assay Buffer
ARG1 Substrate
ARG1 Probe Mix A
ARG1 Probe Mix B
Human ARG1
ABH (in DMSO)

For Research Use Only! Not For Use in Humans.
View All
Close