Description
Cell Proliferation Assay Kit (Fluorometric)
Assay Genie's Cell Proliferation Assay Kit (Fluorometric) provides an easy and quantitative method to measure cell proliferation and cytotoxicity. The assay is based on a nuclear dye that specifically binds to nucleic acid in the cell and generates green fluorescence. The generated fluorescent intensity is directly proportional to the cell number, which can be quantified by measuring fluorescence (Ex/Em = 480/538 nm). This assay kit provides a just add-and-read, non-radioactive, and high-throughput method for cell proliferation and apoptosis. The assay is rapid and more sensitive than MTT, XTT, or MTS-based assays and can detect a wide linear range of 25-60,000 cells.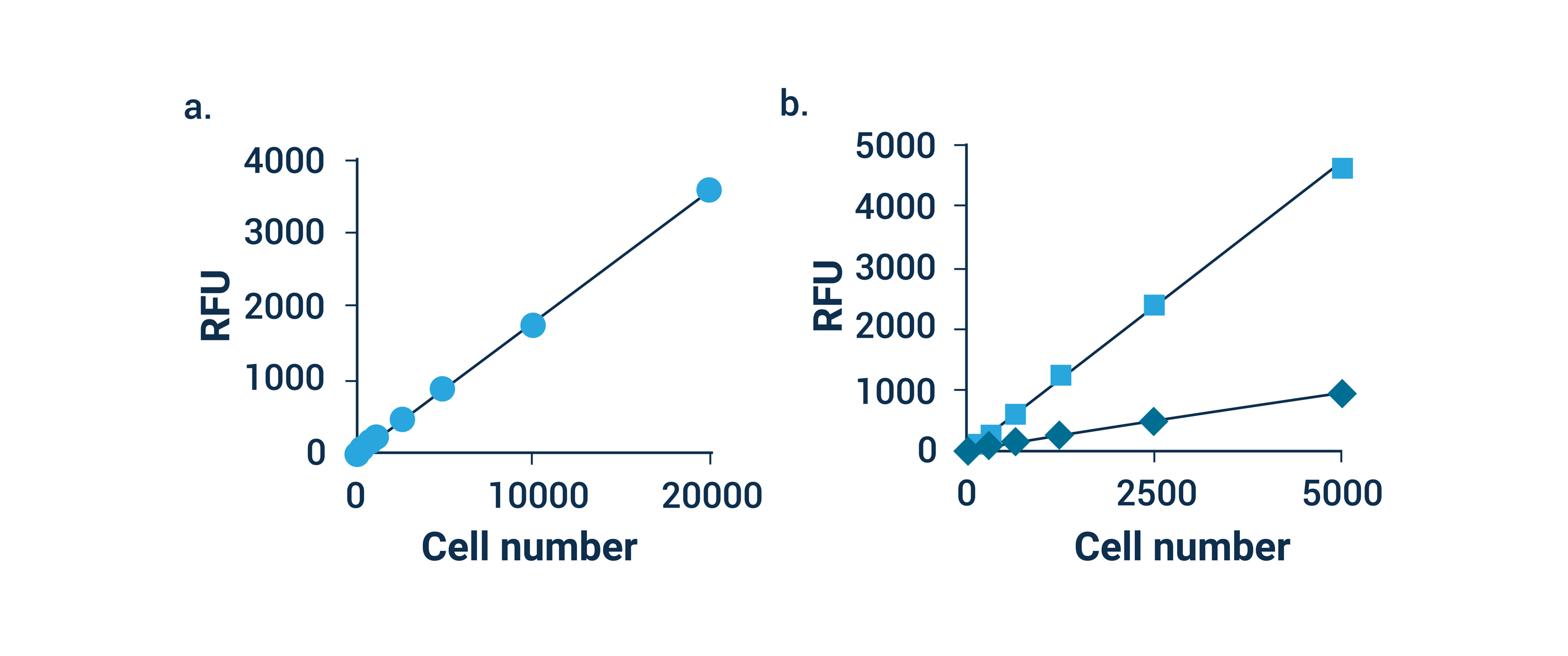 Figure: Cell proliferation assay. a) 5X Nuclear Dye/Cell Lysis Buffer solution was directly added to the serially diluted Jurkat cells in culture medium. Cells were incubated for 15 min. b) For low cell number and/or high sensitivity, cells were spun down to remove the medium before adding 1X Nuclear Dye/Cell Lysis Buffer solution or competitor dye. Cells were incubated for 15 min. Assays were performed according to the kit protocol.
Key Information
Description

Fluorescence (Ex/Em = 480/538 nm)

Measurement of cell proliferation in response to growth factors, cytokines, mitogens, and nutrients
Analysis of cytotoxic and cytostatic compounds such as anticancer drugs, toxic agents, and other pharmaceuticals
Assessment of physiological mediators and antibodies that inhibit cell growth

Convenient (just add-and-read)
Non-radioactive
High-throughput
Wide linear range detection: 25-60,000 cells
Suitable for cell proliferation, and cytotoxicity

Cell Lysis Buffer (5X)
Nuclear Dye (200X)

For Research Use Only! Not For Use in Humans.
View All
Close
Additional Information
| | |
| --- | --- |
| Product type: | Cellular Assay |
View All
Close