Description
Glucose-6-Phosphate Dehydrogenase Activity Assay Kit (Fluorometric)
Glucose-6-Phosphate Dehydrogenase (G6PDH: EC 1.1.1.49) is a cytosolic enzyme in the pentose phosphate pathway, a metabolic pathway that supplies reducing energy to cells (such as erythrocytes) by maintaining the level of the co-enzyme nicotinamide adenine dinucleotide phosphate (NADPH). The NADPH in turn maintains the level of glutathione in these cells that helps protect the red blood cells against oxidative damage. Of greater quantitative importance is the production of NADPH for tissues actively engaged in biosynthesis of fatty acids and/or isoprenoids, such as liver, mammary gland, adipose tissue, and adrenal gland. Assay Genie's Glucose-6-Phosphate Dehydrogenase Assay kit provides a quick and easy method for monitoring G6PDH activity in a wide variety of samples. In this assay, G6PDH converts G6P into pyruvate and NADPH, which further reduces to generate an intense fluorescence product (Ex/Em = 535/587 nm). This kit is simple, sensitive and high-throughput adaptable and can detect as low as 1 µU of G6PDH activity.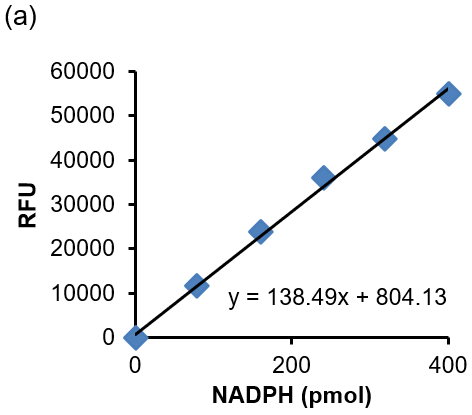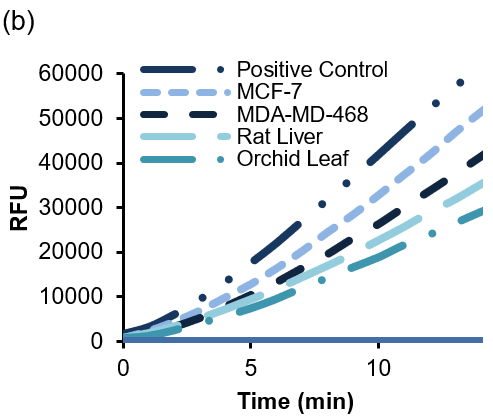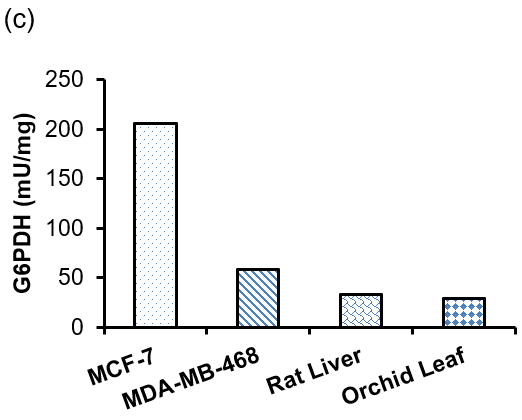 Figure: (a) NADPH Standard Curve. (b) Kinetic measurement of G6PDH activity in various samples. (c) G6PDH specific activity was calculated in lysates prepared from MCF-7 (0.29 µg), MDA-MB-468 (0.41 µg), rat liver (0.6 µg) and orchid leaf (0.56 µg). Assays were performed following the kit protocol.
Key Information
Description

Fluorescence (Ex/Em = 535/587 nm)

Measurement of G6PDH activity in various tissues and cells
Evaluation of pentose phosphate pathway

Rapid & simple
High-throughput adaptable
Can detect as low as 1 µU of G6PDH activity

G6PDH Assay Buffer (in DMSO)
G6PDH Substrate
G6PDH Developer
G6PDH Positive Control
NADPH Standard (200 nmol)

For Research Use Only! Not For Use in Humans.
View All
Close