Description
HRV 3C Protease Inhibitor Screening Kit (Colorimetric)
Human rhinovirus (HRV) infections are the most frequent causative agents of common cold and various other upper respiratory tract infections. Rhinoviruses are members of the picornavirus family, which have a positive-sense, single-stranded RNA genome that is translated into a single polyprotein precursor. In the case of HRVs, the viral polyprotein is mainly processed by the proteases (2A and 3C) to generate functional proteins and enzymes. Assay Genie's HRV 3C Protease Inhibitor Screening Kit utilizes the ability of a 3C Protease (derived from a HRV rhinovirus-14, EC: 3.4.22.28) to cleave a chromogenic peptide substrate to release a chromophore (pNA) which can be easily quantified using a microplate reader. In the presence of a HRV 3C Protease-specific inhibitor, the cleavage of the substrate is reduced/abolished resulting in decrease or total loss of the absorbance. This simple and high-throughput adaptable assay kit can be used to screen/study/characterize potential inhibitors of HRV 3C Protease.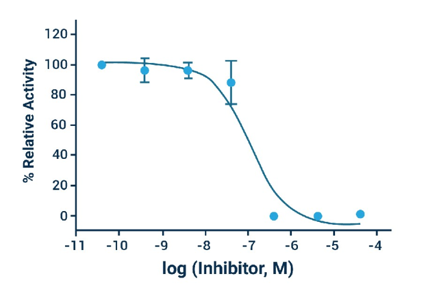 Figure: Inhibition of HRV 3C Protease activity by HRV 3C Protease Inhibitor (IC 50 = 0.12 µM). Assay was performed following the kit protocol.
Key Information
Description

Screening/studying/characterizing inhibitors of HRV 3C Protease.

Simple, rapid assay.
HTP adaptable.

HRV 3C Protease Assay Buffer
HRV 3C Protease
HRV 3C Protease Substrate
HRV 3C Protease Inhibitor (2 mM)

For Research Use Only! Not For Use in Humans.
View All
Close