Description
Human Whole Blood Monocyte Isolation Kit
Monocytes are a type of white blood cell (leukocyte) and the largest of the immune cells. They are produced in the bone marrow and then migrate to the blood stream where they comprise 3-8% of all leukocytes. Depending on the clincial presentation of disease, monocytes will migrate to a specific tissue and then differentiate into a tissue-specific dendritic cell or a macrophage. Monocytes are easily identified by the large amoeboid shape, unilobar nucleus and vacuolated cytoplasm. They serve three important roles: phagocytosis, presentation of antigen to T cells which subsequently results in T cell clonal expansion, and the production of cytokines. Assay Genie's human Whole Blood Monocyte Isolation Kit allows for in vitro isolation of intact, viable monocytes. The kit enables the isolation of 5 x106 monocytes/ml yielding approximately 80% of the total monocytes present in 1 ml of whole blood. The viability stain (included) used to identify living monocytes indicates that more than 99% of the cells in the isolated fraction are viable. The isolated fraction is pure - it contains more than 95% monocytes with less than 3% red blood cell counts.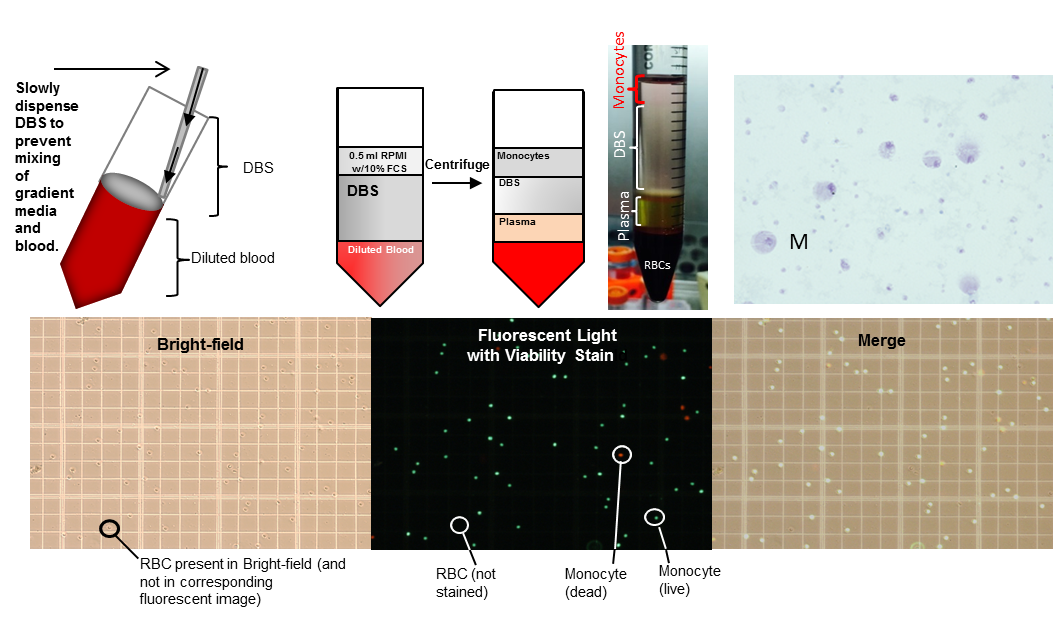 Figure A. Illustration of conical tube held at 45° angle while DBS is layered on top of Dilute Blood. B. Layers of DBS and whole blood prior to and after centrifugation showing the separation of layers in the conical tube. C. Separation of four layers (monocytes, DBS, plasma, and RBCs). D. Bright-field image of monocytes stained with Giemsa. The large, "fluffy" cytoplasm is approximately two-fold larger in size than the amoeboid nucleus (M, monocyte). E. Bright-field image of cells on hemocytometer to determine the Total Cell Count (Left), Image from Fluorescent microscope with FITC/TRITC filters of same ROI showing live (green) and dead (red) cells (middle); merge of two panels (right).
Key Information
Description

Isolation of Monocytes from human whole blood.
Determination of cell viability and also contamination from RBCs in isolated cell fraction.

Isolation of Monocytess from human whole blood.
Determination of cell viability and also contamination from RBCs in isolated cell fraction.

PBMC high yields ( x106 cells/ml)
By using the Viability Stain, it was proven that 99% of the cells are viable and the isolated fraction contains low red blood cell counts (3%)

Monocyte Isolation Buffer (MIB)
Monocyte Density Gradient Media (MDGM)
54% Density media
Viability Stain
Blunt-end needle 18 G; 1.5 in. (Sterile)
Giemsa Stain

For Research Use Only! Not For Use in Humans.
View All
Close
Additional Information
| | |
| --- | --- |
| Product type: | Cellular Assay |
View All
Close