Description
Lactate Colorimetric Assay Kit (384 Well)
Abnormal high concentration of lactate in blood has been related to many important diseases such as diabetes and lactate acidosis. Elevated Lactate concentration in blood is also associated with shock, post cardiac arrest, tissue ischemia, thiamine deficiency, liver disorder, mitochondrial diseases and many more. Therefore detection and quantitation of lactate in from blood is a diagnostic key for several diseases. Assay Genie's Lactate Colorimetric Assay Kit uses an enzyme mix which reacts with L-Lactate specifically. D-Lactate does not react with the enzyme mix. The enzymatic reaction with L-lactate produces a product that generates a color (OD= 590 nm) when reacts with the Lactate probe. The formed product is directly proportional to the amount of L-Lactate present in the sample. The method is quantitative, rapid, simple, sensitive, and designed for high throughput format.The kit provides a convenient means for detecting 0.5 to 5 mM Lactate in biological samples such as in blood, blood circulation, in cells, in culture media, in fermentation media etc. in 384 HTP format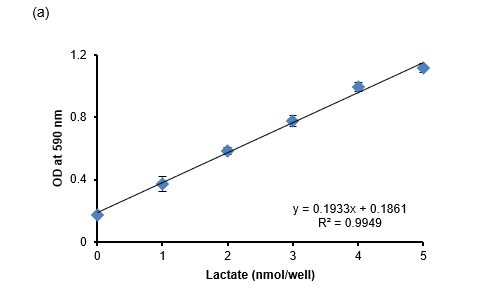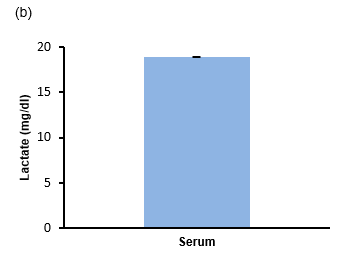 Figure: (a) Glucose Standard Curve; (b) Quantitation of Glucose in human serum. Serum samples were deproteinized using a 10 kDa Spin Column (10000xg, 10 min, 4°C). Undiluted serum filtrate (1 μl) samples were added to the wells directly. Assays were performed according to the kit protocol. Calculated concentration: 86.78 ± 0.1 mg/dl.
Key Information
Description

The kit detects 0.5-500 µM lactate samples

Simple procedure; takes ~ less than 40 minutes
Fast and convenient

Lactate Assay Buffer
Lactate Probe (in DMSO, anhydrous)
Lactate Enzyme Mix (lyophilized)
Lactate Standard (100 mM)

For Research Use Only! Not For Use in Humans.
View All
Close