Description
Methyltransferase Activity Assay Kit (Fluorometric)
Methyltransferases are a diverse group of enzymes that function to methylate protein, DNA, and small molecule targets. Accordingly, methyl transferase activity plays a critical role in modulating gene transcription, protein interactions, and signaling networks. Anomalous DNA methylation pattern has been consistently detected during cancer development as well as in many genetic disorders such as Fragile X Syndrome, ICF, and Rett Syndrome. Assay Genie's Methyltransferase Activity Fluorimetric Assay Kit allows for kinetic evaluation of methyltransferase activity of purified enzymes. The transfer of a methyl group from S-Adenosyl Methionine (SAM) cofactor to a corresponding substrate generates S-Adenosyl Homocysteine (SAH) product. SAH is detected by coupling the methyl transfer reaction to a multi-step enzymatic cascade, resulting in the generation of an intermediate that reacts with GenieRed Probe. The fluorescent product is measured at Ex/Em = 535/587 nm. The limit of quantification (L.O.Q) is 7.5 pmol of SAH generated per min per ml (7.5 µU/ml) in purified enzymes.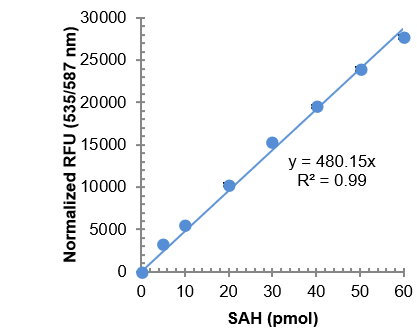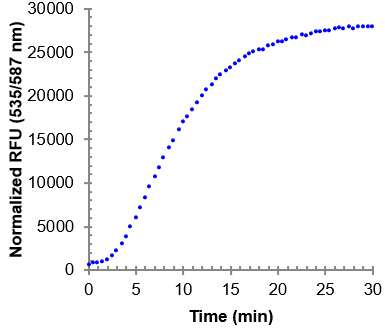 Figure: a) SAH Standard Curve; b) representative activity curve for human recombinant Protein Arginine Methyltransferase 1 (hPRMT1) with Histone H4 Substrate at 25°C. Assays were performed using kit protocol.
Key Information
Description

Fluoresence (Ex/Em 535/587 nm)

Measurement of Methyltransferase activity in purified/crude enzyme preparations and analysis of methyltransferase inhibitors

Simple, rapid & convenient assay to measure Methyltransferase Activity in purified enzyme
Includes Positive Control

MT Assay Buffer
Enzyme Re-suspension Buffer
Enzyme Mix I
Enzyme Mix II
Enzyme Mix III
SAM Cofactor (0.5 mM)
SAH Standard (100 )
MT Positive Control
GenieRed Probe

For Research Use Only! Not For Use in Humans.
View All
Close
Additional Information
| | |
| --- | --- |
| Product type: | Molecular Tools |
View All
Close