Description
Zinc Colorimetric Assay Kit
Zinc, a metallic chemical element, symbol Zn and atomic number 30 is chemically similar to Magnesium due to its similar size and sole oxidation state of ² Zinc is an essential mineral of great biological significance, because many enzymes require it as an essential cofactor. Examples of zinc's biological roles include signal transduction, gene expression, regulation of apoptosis, synaptic plasticity and prostate gland function. Assay Genie's Zinc Assay Kit is a convenient colorimetric assay in which Zinc binds to a ligand with development of absorbance at 560 nm. The assay can be used with biological samples such as serum, plasma, csf or urine with detection sensitivity 0.2 µg/ml (~1-3 µM).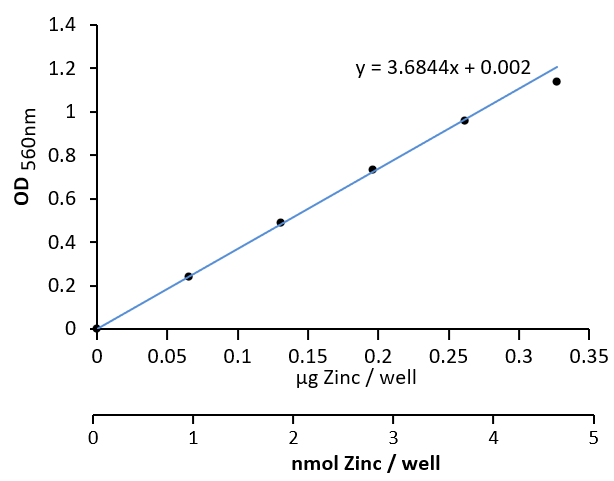 Figure: Standard Curve obtained using kit protocol
Key Information
Description

The kit can detect 0.2 µg/ml (~1-3 µM)

Simple procedure; takes ~ 3 hours
Fast and convenient
The assay is sensitive and stable
The TUNEL-based assay kit provides complete components including positive and negative control cells for convenient detection of DNA fragmentation in cultured cells and tissue sections.

Zinc Reagent -1
Zinc Reagent -2
TCA (7%)
Zinc Standard (50 mM

For Research Use Only! Not For Use in Humans.
View All
Close