Description
Cell Transformation Assay Kit (Colorimetric)
The transformed cells can proliferate without attaching to surface. Anchorage independent cell growth is the hallmark of cell transformation. The Soft-Agar Assay is a traditional method for screening cell transformation in vitro. However, this method is lengthy (3-4 weeks incubation), laborious (counting colonies) and inconsistent (due to subjective counting). Assay Genie's Cell Transformation Assay is faster, stable, and more sensitive than the traditional soft-agar assay. The kit is based on the conversion of the tetrazolium salt (WST-8) to formazan by cellular mitochondrial dehydrogenases. The generated signal is directly proportional to the number of living cells. This one-step method is non-radioactive and simple (just add-and-read, does not require harvesting cells, and solubilization steps). The assay is high-throughput adaptable and has wide linear range from 10000-400000 cells. The entire Cell Transformation Assay can be finished within 7-8 days.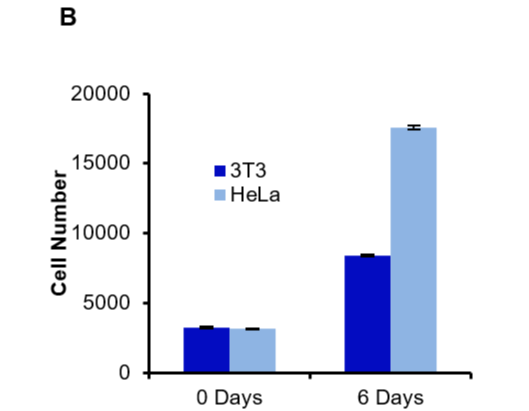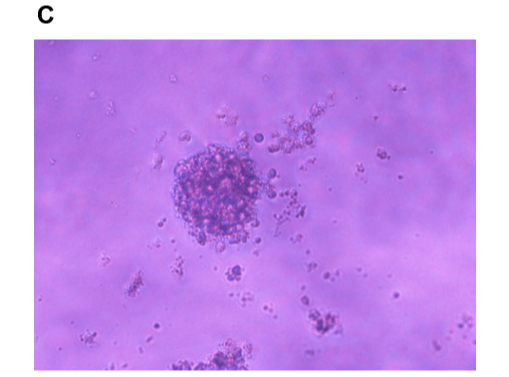 Figure: A. HeLa Cell Dose Curve. B. Equal number of 3T3 and HeLa cells are seeded for Cell Transformation Assay. After 6 days, the cell numbers were measured. Standard and Samples readings were taken 4 hours after adding WST working solution C. Image of HeLa cell colonies. HeLa cells were cultured for 6 days according to the kit protocol.
Key Information
Description

Measure cell transformation in response to stimuli
Screen and characterize compounds that influence cell transformation

Highly sensitive fluorometric method to measure cell transformation in response to a variety of biochemical stimuli
Simple & High throughput-adaptable
Reproducible, Quantitative tool for screening, studying, and characterizing compounds that affect cell transformation

Agarose Powder DMEM Solution (10X)
Staining Solution
WST Reagent
Electro Coupling Solution (ECS)

For Research Use Only! Not For Use in Humans.
View All
Close
Additional Information
| | |
| --- | --- |
| Product type: | Cellular Assay |
View All
Close