Description
CETP Inhibitor Screening Kit (Fluorometric) II
Cholesteryl ester transfer protein (CETP) is a plasma protein that transfers a cholesteryl ester from HDL to LDL or VLDL in exchange for a triglyceride. HDL plays an important role in lipid metabolism and cardiovascular health. HDL transports cholesterol to the liver for excretion or to steroidogenic tissues for steroid synthesis. HDL also plays an important role in the reverse cholesterol transport pathway, removing cholesterol from lipid-filled macrophages, protecting against atherosclerosis. Because of this function, CETP is viewed as a target to increase HDL, with CETP inhibition being an active area of research and several CETP inhibitors at various stages of drug development. Assay Genie's CETP Inhibitor Screening Kit uses a self-quenched fluorescent neutral lipid that can be measured when transferred to an acceptor molecule. The fluorometric intensity is directly proportional to the amount of neutral lipid transfer. Enriched Human CETP from plasma is included for screening. A CETP inhibitor (Anacetrapib) is included as a positive control.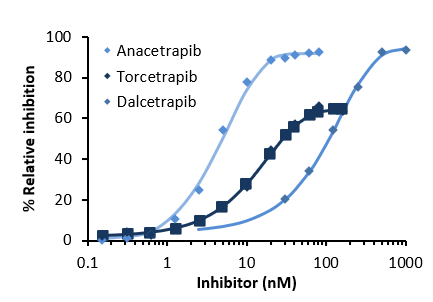 Figure 1: Semi-log plot using best fit 4-parameter regression to compare inhibition of Enriched Human CETP by Anacetrapib, Torcetrapib, and Dalcetrapib. The IC 50 of Anacetrapib was determined to be 5 nM. The IC 50 of Dalcetrapib was determined to be 112 nM.
*Note: Only 64% of Enriched Human CETP activity was inhibited by 160 nM Torcetrapib.
Key Information
Description

Fluorescence (Ex/Em 480/511 nm)

Screening/studying/characterizing CETP inhibitors

The most advanced kit on the market - includes human CETP enzyme and CETP inhibitor Anacetrapib for ultimate user-convenience.
Simple and sensitive assay
High-Throughput adaptable

CETP Assay Buffer
Donor Molecule
Acceptor Molecule
Enriched Human CETP
Inhibitor (Anacetrapib, 1 mM)

For Research Use Only! Not For Use in Humans.
View All
Close