Description
ECL Western Blotting Substrate Kit
Assay Genie ECL Western Blotting Substrate is a highly sensitive, nonradioactive, enhanced luminol-based chemiluminescent substrate for easy detection of horseradish peroxidase (HRP) on immunoblots. Assay Genie ECL Western Blotting Substrate offers superior signal and clear background. Blots can be repeatedly exposed to X-ray film or a CCD camera to obtain optimal results or stripped of the immunodetection reagents and re-probed. The special formulation of Assay Genie ECL substrate makes it ideal substitute for Amersham ECL substrate without the need for additional optimization of assay conditions.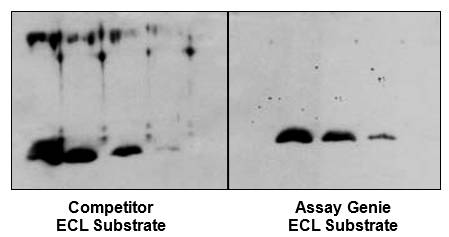 Figure: Comparison of competitor ECL substrate vs Assay Genie ECL substrate
Key Information
Description

50 ml ECL Detection substrate Reagents (25 ml Reagent 1 + 25 ml Reagent 2) Sufficient reagents for 400 cm²of membrane contents

25 ml Reagent A
25 ml Reagent B

For Research Use Only! Not For Use in Humans.