Description
Fumarate Colorimetric Assay Kit
Fumarate (HOCH=CHCO-) is an intermediate in the Kreb's cycle used by cells to metabolize food to form ATP. In the mammalian liver, Fumarate is also a product of the Urea cycle where its release in the cytosol leads to its conversion into malate and subsequently oxaloacetate while generating NADH in the cytosol. The human skin naturally produces fumaric acid when exposed to sunlight. In fact, fumaric acid esters have been used to treat psoriasis, possibly due to an impaired production of fumaric acid in the skin. Fumaric acid has also been used in beverages, baking powders and candy. Assay Genie's Fumarate Assay Kit provides a convenient tool for sensitive detection of the fumarate in a variety of samples. The fumarate Enzyme Mix recognizes fumarate as a specific substrate leading to proportional color development. The amount of fumarate can therefore be easily quantified using a colorimetric assay (= 450 nm). It can detect as low as 1 nmol of fumarate per well (20 µM).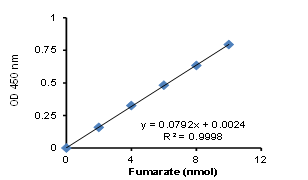 Figure 1: Fumarate Standard Curve – Standard Curve was generated following the kit protocol.
Key Information
Description

Kit can detect as low as 1 nmol of fumarate per well (20 µM).

Simple procedure; takes ~ 40 minutes
Fast and convenient

Fumarate Assay Buffer
Fumarate Enzyme Mix
Fumarate Developer
Fumarate Standard (0.1 M)

For Research Use Only! Not For Use in Humans.
View All
Close