Description
Mitochondrial Permeability Transition Pore Assay Kit
Mitochondria are the power centrals of the cell and play an essential role in energy production. Damage to mitochondria activates signaling pathways that induce apoptosis. The mitochondrial permeability transition pore (MPT pore or MPTP) is a nonspecific channel formed by components of the inner and outer mitochondrial membranes, and appears to be involved in the release of mitochondrial components during cell death. In healthy cells, MPTP's flicker between open and closed states but during cell death MPTP's dramatically alter the permeability of the mitochondria. Cytochrome c release and loss of mitochondrial membrane potential are subsequent to continuous pore activation. Assay Genie's Mitochondrial Permeability Transition Pore Assay Kit provides a direct method of measuring cell death by measuring MPTP opening rather than relying on mitochondrial membrane potential alone.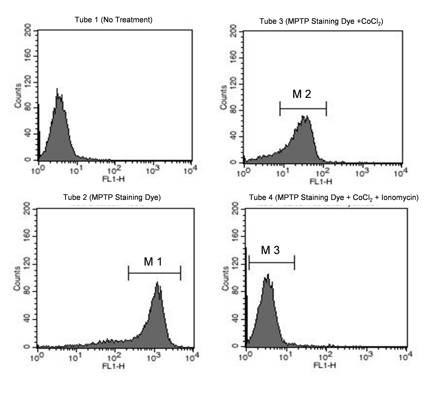 Figure 1: Jurkat cells were incubated with the reagents of the Mitochondrial Permeability Transition Pore Assay Kit and analyzed by flow cytometer. Tube 1: sample without treatment - used for instrument setup; Tube 2: sample stained with MPTP Staining Dye showing cumulative fluorescence signal from both cytoplasm and mitochondria; Tube 3: sample stained with MPTP Staining Dye and treated with CoCl 2 showing mitochondrial fluorescence only; Tube 4: samples with all reagents showing the lowest fluorescence. The difference in fluorescence between tubes 3 and 4 indicates the degree of MPTP activation and subsequent depolarization of the mitochondrial membrane.
Key Information
Description

Flow cytometry (Ex 488 nm)

Measure mitochondrial permeability transition pore activity in cells
Assessment of physiological mediators and antibodies that affect cell viability/cytotoxicity

Simple procedure
Fast, convenient and sensitive
The assay provides a direct method of measuring mitochondrial permeability transition pore activation as an early marker of apoptosis

MPTP Staining Dye
CoCl2
Ionomycin
MPTP Wash Buffer

For Research Use Only! Not For Use in Humans.
View All
Close
Additional Information
| | |
| --- | --- |
| Product type: | Cellular Assay |
View All
Close