Description
Proteasome Activity Fluorometric Assay Kit
Proteasomes are very large (20S, 26S) protein assemblies found in both the nucleus and cytoplasm of all eucaryotes (and in some procaryotes) which are responsible for the degradation and recycling of proteins which have been previously tagged with ubiquitin. Such tagged proteins are degraded into peptides approximately 7-8 amino acids long which are subsequently further degraded. The 20S assembly is the functional protease structure with chymotrypsin-like, trypsin-like and caspase-like protease activities. Assay Genie's Proteasome Activity Assay takes advantage of the chymotrypsin-like activity, utilizing an AMC-tagged peptide substrate which releases free, highly fluorescent AMC in the presence of proteolytic activity. The kit also includes a positive control (Jurkat Cell lysate with significant proteasome activity) and a specific proteasome inhibitor MG-132 which suppresses all proteolytic activity due to proteasomes, which make the assay specifically measures proteasome activity from other protease activity which may be present in samples.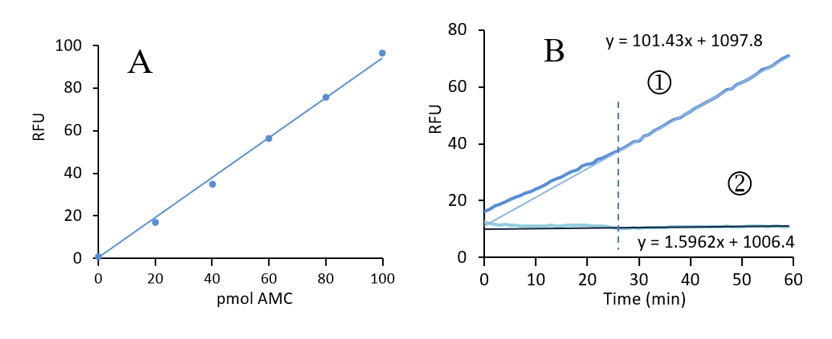 Figure 1: AMC Standard Curve and Proteasome Activity assay using the kit protocol: A: AMC standard curve 0-100 pmole; B: Kinetics of Proteasome Activity assay in the absence (1) and presence (2) of MG-132 Proteasome inhibitor. Equations represent best fit of lines during the linear portion of the reaction (after ~ 25 min in this case).
Key Information
Description

Fluorescence (Ex/Em 350/440nm)

Specifically measures proteasome activity from other protease activity present in samples.

Simple one-step procedure; takes only 30-60 minutes
Accurate and easy to use

Proteasome Assay Buffer
Proteasome Substrate (In DMSO)
Proteasome Inhibitor (In DMSO)
AMC Standard (1 mM in DMSO)
Positive Control

For Research Use Only! Not For Use in Humans.
View All
Close