Description
Protein Disulfide Isomerases (PDI) Inhibitor Screening Kit (Fluorometric)
Protein Disulfide Isomerases (PDI, EC: 5.3.4.1) constitute a thio-disulfide oxidoreductase family. PDI is abundant in the lumen of endoplasmic reticulum (ER). PDI plays an essential role in catalyzing the rearrangement of S-S bonds in proteins and functions as a chaperon. Recent studies show that PDI activity is essential for cancer cell survival and proliferation, and targeting the PDI activity with its inhibitors abrogates survival responses to ER stress in cancer cells. Thus, identification and development of PDI inhibitors represents an important approach in cancer therapy. In Assay Genie's PDI Inhibitor Screening Kit, the PDI converts Insulin into its reduced form in the presence of Dithiothreitol (DTT). This reduced insulin binds to a fluorescent probe to generate an intensely fluorescent product (Ex/Em = 440/490 nm). In the presence of a PDI inhibitor, the reaction is impeded/abolished, resulting in a decrease or total loss of fluorescence. This assay kit can be used to screen/study/characterize the potential inhibitors of Protein Disulfide Isomerase. The assay is simple, high-throughput adaptable and can be performed within 60 min.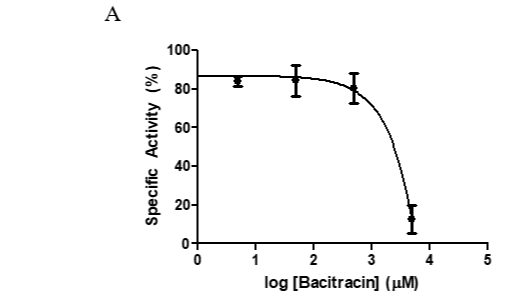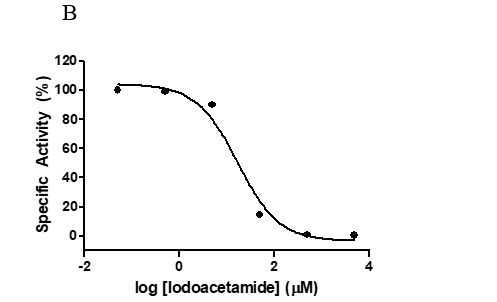 Figure: Inhibition of Protein Disulfide Isomerase activity by PDI Inhibitors (Bacitracin and Iodoacetamide). For Iodoacetamide, IC 50 = 17µM. Assay was performed following the kit protocol.
Key Information
Description

Fluorescence (Ex/Em = 440/490 nm)

Screening/characterizing/studying potential inhibitors of Protein Disulfide Isomerase (PDI)

Simple and High throughput adaptable
60 minutes short protocol
Detect using a fluorometer or fluorescence microplate reader.

PDI Assay Buffer
PDI Substrate
PDI Probe (in DMSO) (20X)
DTT (100X)
PDI Enzyme
PDI Inhibitor Control (Iodoacetamide)

For Research Use Only! Not For Use in Humans.
View All
Close