Description
Xanthine/Hypoxanthine Colorimetric/Fluorometric Assay Kit
Xanthine, a catabolic product of purine metabolism, is present in body fluids, muscle tissue and certain plants. Structurally like caffeine, Xanthine has a stimulant effect and is used clinically to treat the congestive diseases such as asthma and chronic obstructive pulmonary disease. Xanthine is metabolized into uric acid and superoxide by Xanthine oxidase. Xanthine oxidase deficiency causes the rare genetic disorder-Xanthinuria, and leads to Xanthine accumulation in urine and blood, which ultimately progresses to renal failure. Recent studies show that Xanthine levels are elevated following ischemic injury, thus Xanthine can serve as a useful marker for tissue hypoxia. Early detection of Xanthine alteration in biological fluids is crucial for metabolic studies and for diagnostic and therapeutic monitoring. In Assay Genie's Xanthine/Hypoxanthine Assay kit, Xanthine/Hypoxanthine is specifically oxidized by the Xanthine Enzyme Mix to form an intermediate, which reacts with Developer & Probe to form a product that can be measured colorimetrically (= 570 nm) or fluorometrically (Ex/Em = 535/587 nm). Xanthine/Hypoxanthine Assay kit is rapid, simple and sensitive. This high-throughput suitable assay kit can detect Xanthine levels as low as 0.4 µM in various biological samples.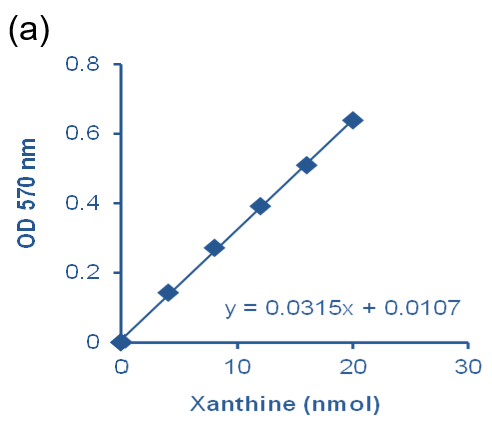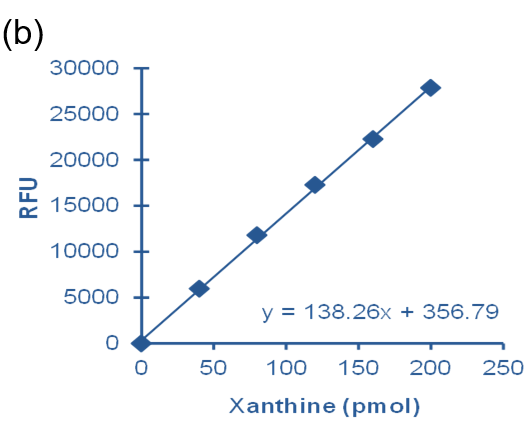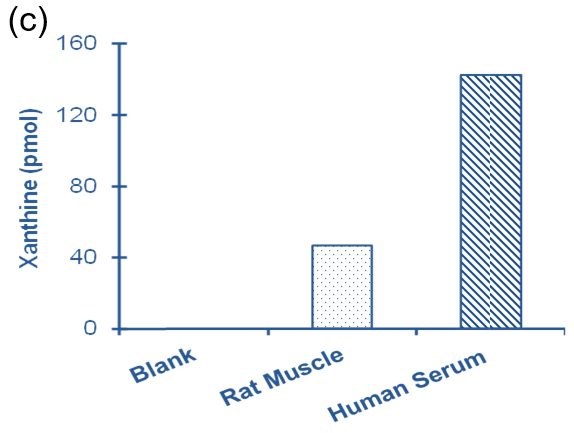 Figure 1: (a) (b) Xanthine Standard Curve. (c) Measurement of Xanthine in rat muscle (1 µg) and human serum (2 µl) samples . Assays were performed following Kit protocol.
Kit Information
Description

Absorbance (570 nm) or Fluoroescence (Ex/Em = 535/587 nm)

The kit can detect Xanthine/Hypoxanthine levels as low as 0.4 µM in various biological samples.

Image and accurately measure glucose uptake in cultured cells in response to insulin, growth factors etc.

Xanthine Assay Buffer
GenieRed Probe (in DMSO)
Xanthine Enzyme Mix (Lyophilized)
Developer (Lyophilized)
Xanthine Standard (Lyophilized)

For Research Use Only! Not For Use in Humans.
View All
Close
Additional Information
| | |
| --- | --- |
| Product type: | Cellular Assay |
View All
Close