Description
Angiotensin I Converting Enzyme (ACE1) Inhibitor Screening Kit
Angiotensin I converting enzyme (ACE1, EC: 3.4.15.1), a dipeptidyl carboxypeptidase, is part of the renin-angiotensin system (RAS) that controls regulation of blood pressure by cleaving the C-terminal dipeptides of angiotensin I and bradykinin. It is found on the luminal surface of vascular endothelial cells, especially in pulmonary tissues. In addition, elevated levels of ACE1 are found in sarcoidosis, leprosy, hyperthyroidism, acute hepatitis, primary biliary cirrhosis, diabetes mellitus, multiple myeloma, osteoarthritis, amyloidosis, Gaucher disease, pneumoconiosis, histoplasmosis and miliary tuberculosis. Assay Genie's ACE1 Inhibitor Screening Kit can be used to screen for potent inhibitors of ACE1 activity to regulate hypertension. It utilizes the ability of an active ACE1 to cleave a synthetic o-aminobenzoyl peptide (Abz-based peptide substrate to release a free fluorophore). The released Abz can be easily quantified using a fluorescence microplate reader. In the presence of an ACE1 specific inhibitor, the enzyme loses its peptidase activity which results in decrease of fluorescence intensity. This assay kit is simple and can be used to identify and characterize ACE1 inhibitors in a high-throughput format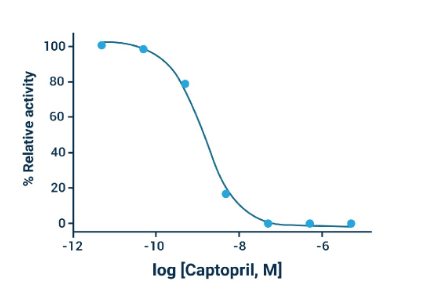 Figure: Inhibition of ACE1 activity by ACE1 Inhibitor Captopril (IC 50 = 1.46 nM (n = 3)). Assay was performed following the kit protocol.
Key Information
Description

Fluorometric (Ex/Em = 330/430 nm)

Screening/studying/characterizing inhibitors of ACE1

Simple one-step reaction
Takes only 1-2 hrs
Non-radiometric fluorescent screening process HTP adaptable

ACE1 Assay Buffer
ACE1 Dilution Buffer
ACE1 Enzyme
ACE1 Substrate
ACE1 Inhibitor (10 mM Captopril)

For Research Use Only! Not For Use in Humans.
View All
Close
Additional Information
| | |
| --- | --- |
| Product type: | Cellular Assay |
View All
Close